The Jacobin is not an outfit I follow, but they have a rather brilliant cover, via an article at RT (h/t Zerohedge):
'Government becomes God': Jacobin's satirical cover literally idolizing Biden strikes nerve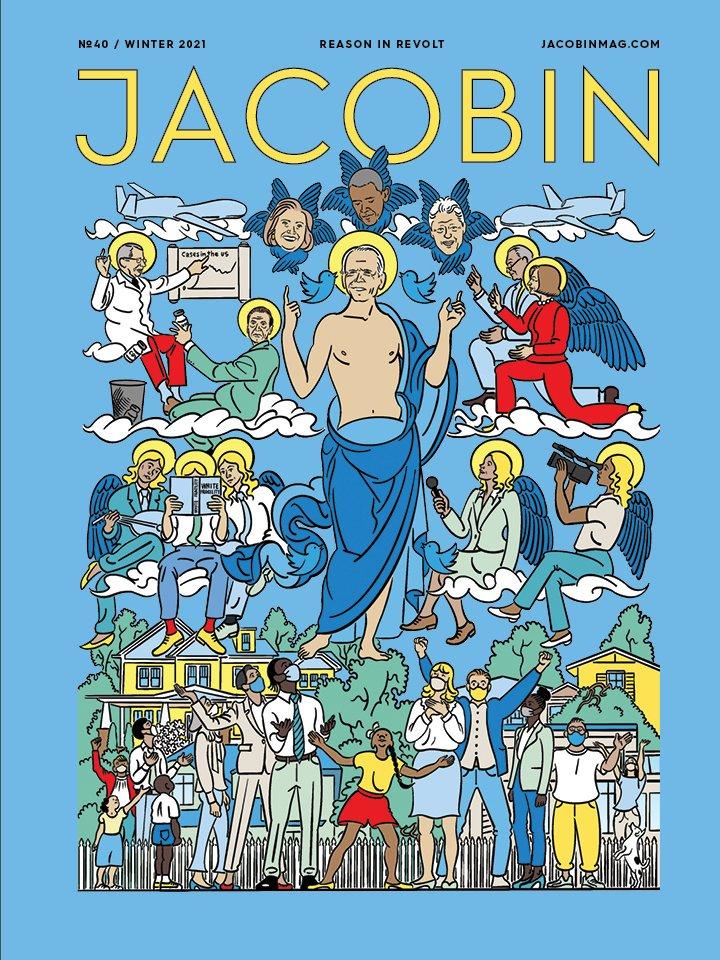 RT explains the, um, iconography:
Biden's larger-than-life, bare-chested figure is shown surrounded by 'holy spirits' of Twitter and 'saints'. The latter include kneeling Democrat leaders in the US Congress, Dr. Anthony Fauci, fawning journalists and manager-class devotees eagerly consuming the 'holy scripture' from what is probably the latest Barack Obama memoir. The former president himself is shown as a six-winged seraphim bracketed by the likewise angelic Hillary and Bill Clinton, with the trio gazing benignly from the heavens. A crowd of mask-wearing suburban laymen on Earth celebrate Biden's ascension. A pair of Reaper drones complete the picture, providing a clear hint for the doubtful that the image should be taken with a grain of salt.
No doubt this a bit of gentle Leftist self mockery, but who can doubt that this amounts to the Administrative Deep State's vision of our future--America in the Great Reset? I take it that the 'holy spirits' of Twitter are merely meant to represent our Big Tech Overlords more generally.