The bad news first--we're working on a record. So far today we're at a bit over 2,200 deaths from Covid19. That's a record, and it translates to a 15,400 weekly rate. That's a lotta dead people in a short time span. Do I know how long that will continue? Of course not. It's just a marker for now.
When will we reopen? That's what everybody wants to know, and that's part of what Dr. Scott Gottlieb talks about in a long interview at the liberal Vox:
Scott Gottlieb on how, and when, to end social distancing
The former FDA commissioner doesn't think the US is going to return to normal anytime soon.
You can read it, FWIW. He's pessimistic, or at least that's how I would characterize his views.
And here's a pie chart to provide reasons for being pessimistic. This thing isn't nearly so simple as many "conservatives" would like it to be, where you just tell oldies like me to go sit in a closet and everybody else can go out and be normal: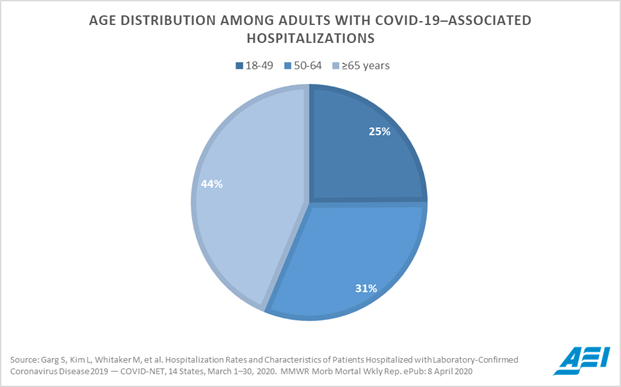 Please take note of the logo in the bottom right corner. AEI. This isn't data from WHO. It's not from China. It's from the American Enterprise Institute.
But on to the GOOD NEWS. Here's what Gottlieb is saying could happen while we wait for that vaccine--and please don't hold your breath for that. Nevertheless, what Gottlieb has to say in this excerpt from way down in the interview does hold out promise. Just forget about "herd immunity". Think about drug therapies, instead. Therapies that could be prophylactic--preventative--rather than just treating infections. That could really hold promise for getting back to a semblance of normality, and Gottlieb is optimistic about this. I believe he's referring to something I referenced in
Interesting Interview Explaining Possible Antibody Treatments For Covid19
--therapeutic antibodies:
Ezra Klein
Phase three, which is a much more normal phase of life, works off of the development of vaccines and therapeutics. Where do you think we are on that front and what do you think is plausible in terms of therapeutics, let's say, by the end of the year?
Scott Gottlieb
We're not going to have a vaccine by the end of the year. We need to assume that a vaccine may be two years away. So we need other technology. If you look at what could be available by the fall, it's a small subset of drugs.

I would be focusing attention and resources on working aggressively with those manufacturers to try to pull those products through the development process and understand whether they are safe and effective.
What are those drugs? One is an antiviral drug — it inhibits viral replication. And it's pretty far along. There's data available right now that suggests that it's active. A lot of doctors are using it. The other products are therapeutic antibodies. These are basically biotech manufactured antibodies — the same kind of antibody your body would produce if it is exposed to the virus in order to fight the virus if you're exposed again.
That's an attractive product for a number of reasons: First, it can be used as a treatment early in the disease. It can also be used as a prophylaxis — as a bridge to a vaccine. You might be able to give a monthly injection or bi-monthly injection to people that would prevent them from getting infections. You can use that for frontline health care workers. You can use it for TSA agents or food handlers who are coming into contact with a lot of people and more likely get infected and then spread the infection. You can use it in the contacts of someone who is sick to prevent them from getting sick. That could be a very attractive drug.
The combination could be very effective

if you can have both of those by the fall:

a treatment to help people who are infected and an antibody that can help prevent infection in those who are exposed. That's a pretty potent combination.
The biggest obstacle is going to be manufacturing them at scale. That's something we could solve for right now. We should be working on how we're going to make investments to help these companies scale up manufacturing and get to large commercial scale manufacturing in time for the fall so that if one of them does work, we're able to turn on the spigot and produce millions of doses a month. That's the kind of position you want to be in.
There was money set aside in a recent congressional bill that set aside upwards of $10 billion to do just this. That needs to be implemented. The companies need to be aware of it and pursue those opportunities. You need the agencies working to stand that up so that all has to happen. That's the kind of thing I think we should be focused on right now.
Ezra Klein
In phase three you also talk about using serological surveys to determine population immunity. I've seen conflicting reports on whether people who've gotten coronavirus are immune. What is your best guess on that? If we had that serological testing, would it even matter?
Scott Gottlieb
Serological testing is important for understanding where the virus has been and who's been exposed. It could be important for decisions about returning to work in certain professions where there's gonna be high exposure like police officers or EMT workers or doctors and nurses. But by and large, what we're going to find is that a very small percentage of the population has actually been exposed to this virus. If you talk to the modelers and the experts, they say anywhere from 1 to 5 percent of the US population has probably been exposed to this virus already.
If you look at the data coming out of Europe where they're already using serology, it's in the 5 percent range. So the idea that 30 or 40 percent of the population has had this virus is going to turn out not to be the case. It's going to turn out to be a small percentage of the population — certainly in the single digits — that have the level of antibodies needed for immunity. And it's not going to be enough to create herd immunity.

It's also not going to be enough to have this pool of people that can just return to work.