I read (somewhere) recently that the dollar cost of running our Empire branch in Afghanistan has amounted to $2.2 trillion (subject to correction). Which, from the point of view of our various recent stimuli is really a bargain--chump change, you could say, given that the whole operation seems to have been run by chumps in uniform.
On the other hand, perhaps the true casualty--and I have no idea how to express this in dollars--was the loss of our republic. We know that those trillions didn't go to building an effective, dedicated Afghan government and military. Who thinks it went to supporting a lean and mean US fighting machine? No doubt some did, but really--wasn't it really about spreading the wealth around, as Obama might say? Does anyone doubt that much if not most of the post-Cold War military has been about jobs for the boys--the various contractors. And who doubts that substantial sums made their way back to DC to bribe--I think that's the mot juste--politicians? A constitutional republic--that's the cost of empire, and it certainly isn't a revelation to anyone who's read a bit of history. As far as history proves anything beyond human folly, it could be said to prove that republics and empires are incompatible forms of government.
And what can you say about the resident chump at the WH--or about his handlers, mostly old Hillary and Barry cronies. Zhou said our military role in Afghanistan would be over by August 31st. The Taliban had different ideas and pulled the plug two weeks early. Incredibly, as recently as last night Zhou was telling reporters--presumably as instructed by his handlers--that a Taliban victory wasn't at all inevitable. And that our Embassy staff wouldn't be evacuated by Air Chinook:
August 15, 2021
Will we now be hearing from the MSM about the latest Hunter vids? Asking for a friend who thinks it all somehow fits together.
If there's a positive that could come from the debacle of Empire it might be that the US military will be held to account. We know that the real war that the higher ranks in the military have been fighting--that is, apart from the never ending battle for promotion--has been against the rank and file. Or, more precisely, against the privileged among the rank and file. Interestingly, unlike other measures of the cost of Empire, there is a relatively easy way to quantify what you could call the privilege of Empire or the cost of privilege--it's dated, but it's good enough for government work, as we used to say:
How to compare that to casualties among woke commanders fighting to climb the greasy pole of promotion? There must be a way.
My guess is that all that will play very badly back home. When will the resignations begin? As soon as our professional commanders develop a sense of shame, I suppose.
Then again, maybe this is all part of a pivot. Remember we were always told we were over there so we wouldn't have to end fighting terrorists over here? Or something like that. But maybe we're coming back to fight the war on terror right here at home. The military closing ranks with our incredibly bloated intelligence establishment, which should come as no surprise after the dispiriting spectacle of the military occupation of the Imperial City on the Potomac this Winter and Spring.
I have to say that, having retired just as the "turn to analysis" was getting into full swing, I'm never surprised at the latest revelations that our Intel Community analysts' skills are on a par with those of Facebook "fact checkers". For example, this latest from the domestic defenders of Empire: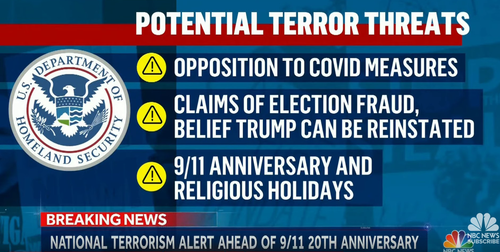 The really scary part of learning, once again, the sort of fantasy world IC analysts inhabit is these bulletins are doubtless approved at the highest levels of the IC generally. Further, to learn that these people see themselves as guarding the Establishment against the Great Unwashed, the subject population, speaks volumes as to the perceived legitimacy of the regime by its defenders. This bulletin easily embraces a majority of the subjects.
Zerohedge has an excellent write-up on this threat bulletin, pointing out--among other things--that if "opposition to Covid measures" is a sign of Domestic Terror potential then virtually the entire African-American population qualifies--since young blacks are far and away the most vax resistant demographic. The fact that these analysts don't understand something that basic tells you how out of touch they are. I really enjoyed this paragraph culled from the bulletin itself, and its new (to me) acronym:
Through the remainder of 2021, racially- or ethnically-motivated violent extremists (RMVEs) and anti-government/anti-authority violent extremists will remain a national threat priority for the United States. These extremists may seek to exploit the emergence of COVID-19 variants by viewing the potential re-establishment of public health restrictions across the United States as a rationale to conduct attacks. Pandemic-related stressors have contributed to increased societal strains and tensions, driving several plots by domestic violent extremists, and they may contribute to more violence this year.
Why not RoEMVEs? And why not A-G/AVEs? I dunno. You'd have to be an analyst to understand the intricacies of acronym formulations. These are the foot soldiers of our emerging domestic empire--they also serve who only stand and analyze. Or something like that. One imagines them spending their days analyzing and bandying acronyms. Perhaps they've already come up with one like A-AVEDT. Anti-Authoritarian Violent Extremist Domestic Taliban. At the gates.