My father was a clinical psychologist. One of the things he said to me, many years ago, that made a deep impression was to this effect: Intelligence is, to a great extent, a function of character. In other words, of virtue. What he meant was that those who lack virtue, who are of weak character, tend to lack true insight into reality, and thus to misjudge things on a regular basis.
This morning American Greatness ran a number of articles that all seemed to hit on variations of that theme. Central to all of them was the idea that the Prog movement, including Dems, seeks to control people through fear.
Now, one of the classical virtues is fortitude, or courage. Courage is what makes the practice of the other virtues possible. A people dominated by fear will have great difficulty in practicing the virtues in their lives. As so often, Trump was getting at something rather profound when he urged his fellow citizens not to be dominated by Covid. Not to be paralyzed by fear. To be dominated by fear makes a truly human life almost impossible.
One of the articles that touches on much of this is this one by Jay Whig:
The Biden Death Star: A Star Wars Story

The Biden Death Star is a mask, strapped to a human face, forever.
Clearly Whig had Trump's brush with Covid in mind, as well as his call to courage. Many of us, before the true nature and risks of Covid were known, accepted the idea of voluntarily wearing a mask in certain situations. While that was initially pooh-poohed as unscientific, we all know what soon happened. The Left--realizing the potential for domination of others by instilling fear and distrust-- did a quick about face (hah!) and embraced mandatory masking up and distancing of humans from one another.
Whig does a nice job of illustrating how this works and what the Prog plans for our future are. Note how it all dovetails smoothly into that central feature of the Prog vision, the antithesis of our constitutional order--the administrative state, rule by unelected "experts". This vision explains the fear of Progs at the notion of judges committed to the constitution, rather than to legislating through judicial lawmaking whatever the current Prog obsession is. Whig:
The Biden Death Star is a liberty-killing weapon based on the idea of perpetual pandemic. Its basic structure has four major parts:

Progressive control over the economy – "an immediate set of ambitious and progressive economic measures …";
Profligacy – "We must spend whatever it takes, without delay…";

Expertise over self-government

– " [l]eadership grounded in science."

Forever

– "…even as we respond to this crisis, we must prepare for the next one."

To paraphrase Orwell—or Darth Vader (take your pick)—the Biden Death Star is a mask, strapped to a human face, forever.

Oh, and I forgot, globally. It's always global.

The Biden Death Star has many other details. But these are ancillary to its central purpose, which is fear.

Fear is an instrument of control in a struggle to cede deliberative government to an administrative state. The English philosopher Thomas Hobbes [author of Leviathan] recognized this. Hobbes built an entire political theory—a depraved one—around fear.
Never let a crisis--or a pandemic--go to waste. Make it permanent. That is the Dem watchword. And the way to accomplish this is through fear--perpetrated on the populace through a never ending succession of hoaxes, both scientific and political, and propagated through an educational establishment that has become a system of indoctrination. This is the story of the Dem party for much of our history since the Civil War. Originally embracing a naively optimistic view in the Progressive era, the recalcitrance of the American people has led Progs to look to fear as a means of coercion and control.
This tendency has intensified greatly in the period since World War II, to such a degree that, in a very real sense, this is what this Election 2020 is about. We see it in the contrast between the Dem fear mongering and appeals to seemingly irreconcilable differences and, on the other hand, Trump's appeals to hope, to courage, to an optimism that we can overcome the challenges we face and can unite as a people.
What progress have the Dems made? Gallup recently did a survey that serves to measure the degree of fear that has been instilled in the population, using Covid as the focal point. The contrast between the Party of Fear and the Party of Hope and, dare I say, Courage is quite stark: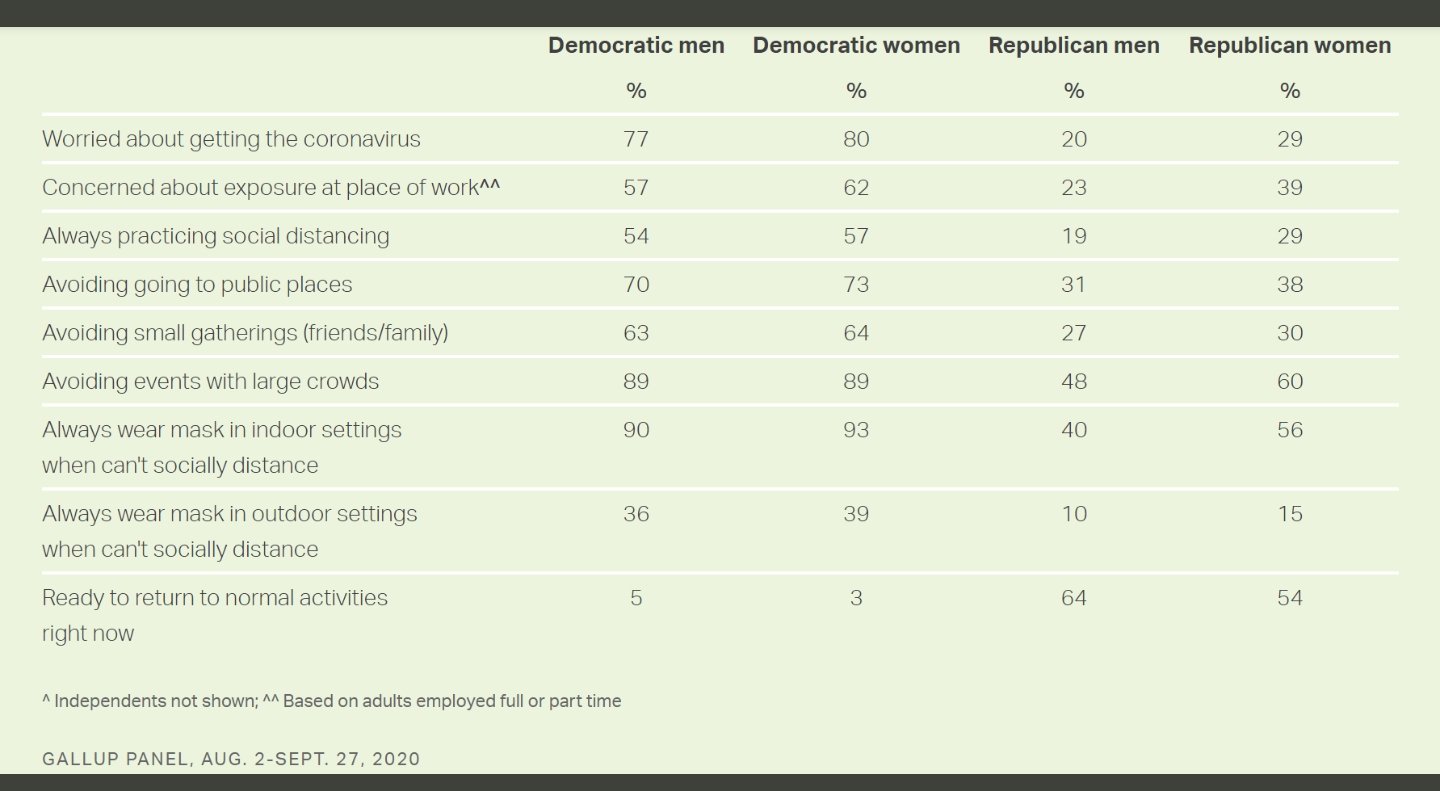 It's our choice.
UPDATE: I can't believe I failed to cite the founding fathers in the original version of the post. Their views on the relationship between virtue and freedom--bearing in mind the relationship of courage to the other virtues--go a long way toward explaining the Prog war on all virtue, of all sense of right and wrong, on any definition of a human nature that we don't create for ourselves. John Adams, of course, is the most often quoted, but his views are representative of all:
"The only foundation of a free Constitution, is pure Virtue, and if this cannot be inspired into our People, in a great Measure, than they have it now. They may change their Rulers, and the forms of Government, but they will not obtain a lasting Liberty.

"We have no government armed with power capable of contending with human passions unbridled by morality and religion. Avarice, ambition, revenge, or gallantry would break the strongest cords of our constitution as a whale goes through a net."

"Our Constitution was made only for a moral and religious people. It is wholly inadequate to the government of any other."

"Liberty can no more exist without virtue and independence than the body can live and move without a soul."

"Public virtue cannot exist in a nation without private, and public virtue is the only foundation of republics."

"[I]t is religion and morality alone which can establish the principles upon which freedom can securely stand. The only foundation of a free constitution is pure virtue."

"The laws of man may bind him in chains or may put him to death, but they never can make him wise, virtuous, or happy."

- John Adams