There are several places this new release in the Biden Crime Family case can be viewed online. Here's Shipwreckedcrew's article about it. It's all very simple and easy to understand.
The email is from Burisma's Vadym Pozharskyi to Devon Archer--with a copy to Hunter Biden. Pozharskyi makes it crystal clear that Burisma is hiring Archer and Hunter Biden to make the Ukrainian Prosecutor General, Viktor Shokin's, investigation of Burisma go away. Here's SWC's succinct summary, which quotes from the email:
Joe Biden's visited Ukraine on December 7, 2015, a Monday. ...

Burisma's interest could not be more plainly stated. ... They wanted meetings/communications with "high-ranking US Officials in Ukraine, and "US publicly or in private communications/comment expressing their "positive opinion" in support of Nikolay/Burisma…." and wanted that made to the highest level of decision-makers in Ukraine — the President, Chief of Staff, and Prosecutor General.

The "ultimate purpose was to close down for any cases/pursuits against Nikolay in Ukraine."

... According to Biden and others who supported the firing, there were no investigations and that's why the prosecutor needed to be fired.

That was not Burisma's view, as the email makes clear. Burisma wanted Shokin's investigations stopped — and Joe Biden did that on December 7 when he demanded that Shokin be fired.
Remember, that was Biden's famous ultimatum to the Ukrainian government: Fire Shokin or you don't get the $1 billion dollars the US had promised.
Burisma's attorney, John Buretta, was able to meet with the Prosecutor General who replaced Shokin, and convinced him to drop the investigations of Zlochevskyi by resolving some tax issues. And with that, Zlochevskyi was able to return to Ukraine in 2018.

It's great when a plan comes together, AND everyone gets paid — including Hunter and Joe.
And here's the whole email: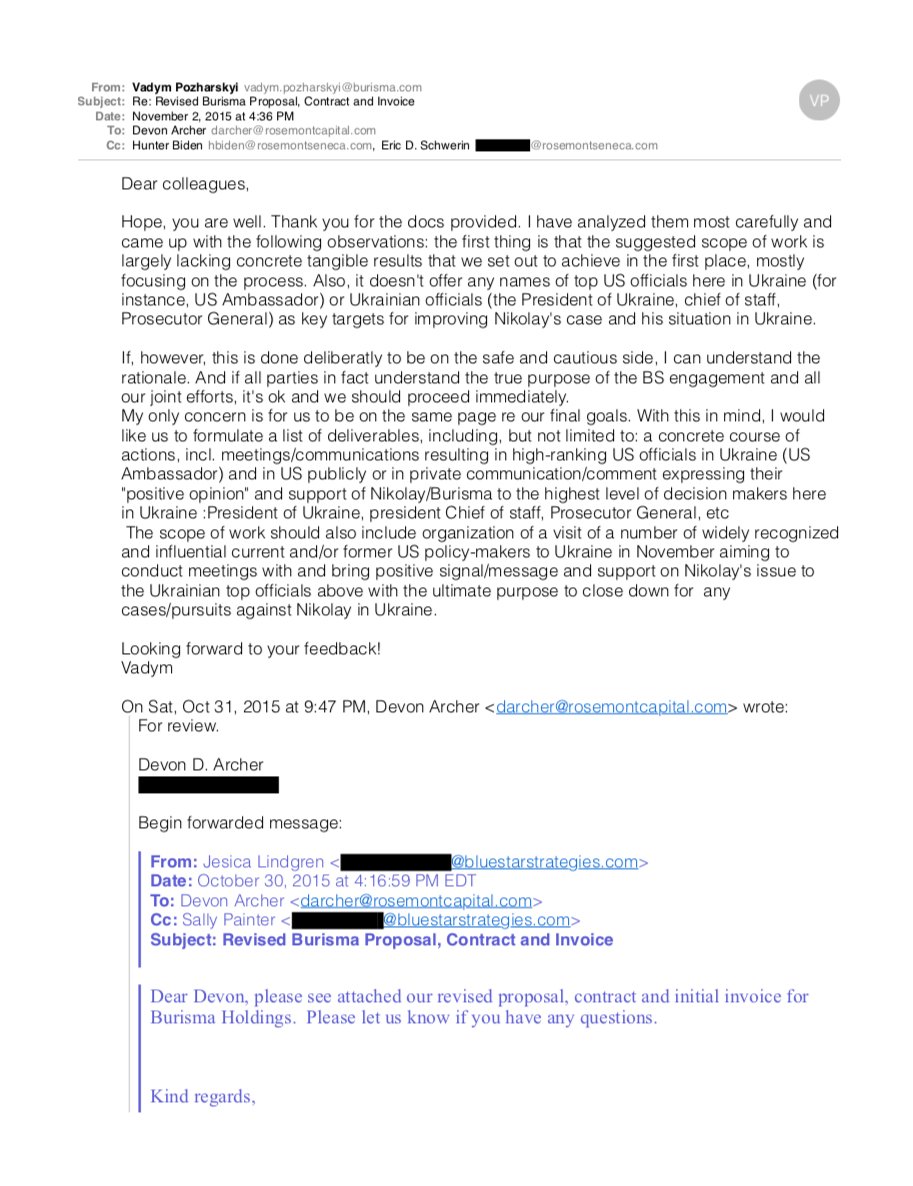 Seems pretty straightforward. The ball seems to be in Biden's court now.