Catching up on Twits, er, Tweets.
Mis-Information herself, Jen Psaki, figures somewhat largely today. For example:
1/ More importantly,

@jrpsaki lied yesterday. She repeatedly referred to the vaccines as "approved":

"...even though many of them [the mRNA vaccines] are approved and have gone through the gold standard of the FDA approval process."

Now that's what I call misinformation.

2/ As we all know - including Psaki - the vaccines are NOT approved. They're authorized for emergency use (finding the emergency is another issue, but put that aside).
By the way, the "vaccine" fact sheet makes interesting reading: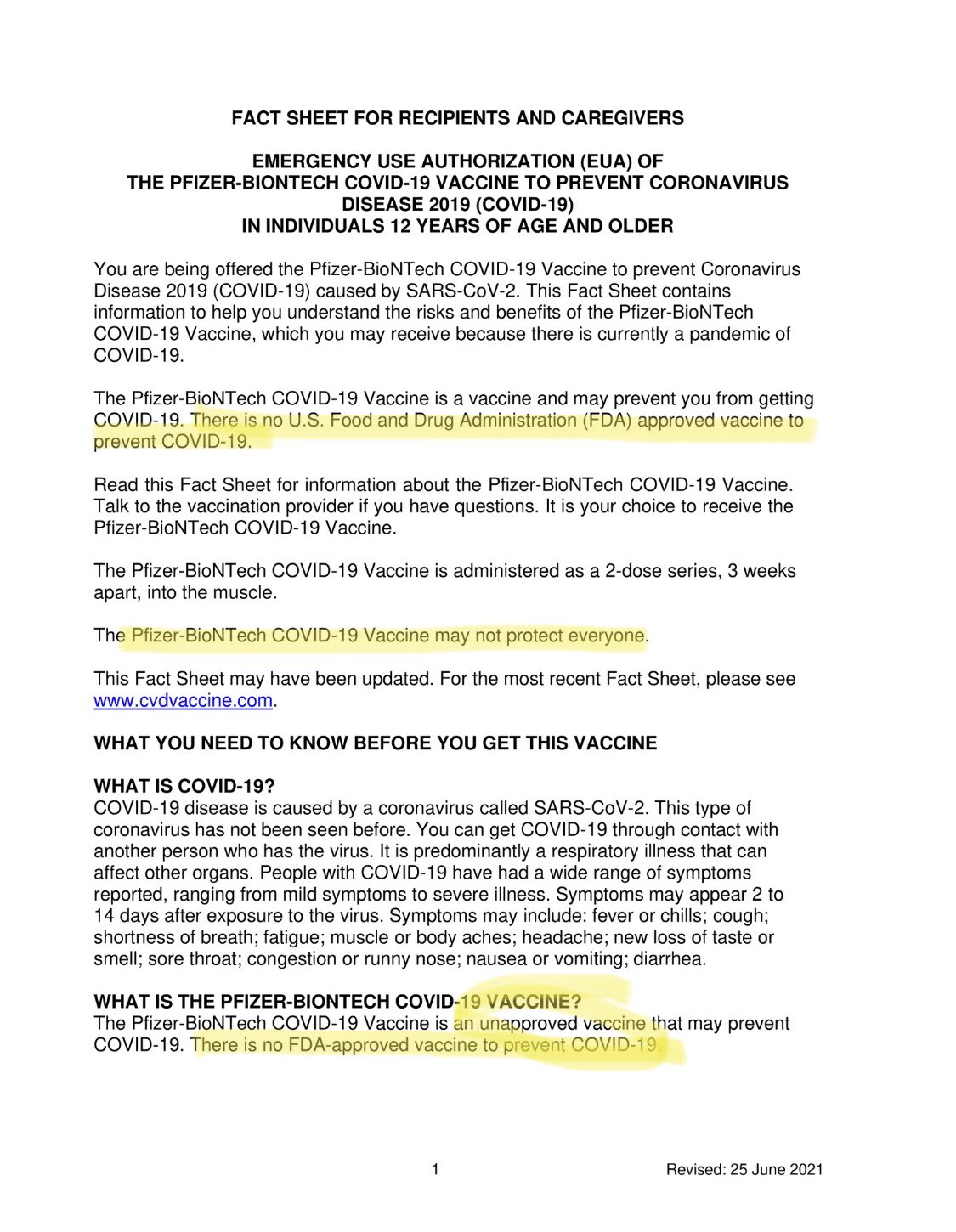 Mis-Information also jousted a bit with Peter Doocy, repeatedly claiming that compiling a list of to-be-censored social media posters is a necessary thing because people are dying all across the country in a "pandemic," including "children".
This blatant to use scare mongering to justify censorship drew some predictable fire, although not nearly enough:
This attempt to cajole social media companies into censoring Americans should be seen as impeachable
Every censor throughout history, in every culture, has justified their censorship by claiming the suppressed information is dangerous and the censorship is for the public good.

Liberals defending the Biden WH on this ground think they invented some novel, benevolent rationale.
Every conservative's go-to liberal, civil-libertarian, legal guy went on a tear on the entire issue:



What is chilling is the degree to which reporters and academics support this censorship. Yet, that system is still not (to use Sen. Blumenthal's words) "robust enough" for Biden who wants these companies to carry out a more censorship of opposing views.

The Lethality of Free Speech: Biden Denounces Big Tech as "Killing People" By Not Censoring Speech President Joe Biden slammed Big Tech companies this week for "killing people" by failing to engage in even greater censorship of free speech on issues related to the pandemic. It was a …

Biden is accusing Facebook of actually killing people for refusing more extensive censorship of speech. The statement equates free speech with death itself. We have seen this type of reckless rhetoric in other areas where disagreement is treated as de facto racism or hate speech.

From the massive censorship programs to privately mandated vaccine "passports," liberals are looking to companies from Apple to American Airlines to carry out social programs free from constitutional and political limits imposed on the government ...

'Shadow State': Embracing corporate governance to escape

Just this week, the White House admitted it has been flagging "misinformation" for Facebook to censor.

... If these trends continue, citizens could find themselves effectively exiled by order of corporate governors—unable to travel or go to school while also barred from espousing dissenting views on social media.

...If this outsourcing of government is allowed to expand, some citizens could find themselves, effectively, be "disappeared" within a shadow state that lacks any electoral or appellate process.
I've been asked about the latest Russia Hoax nonsense--Putin supposedly blackmailing Trump, this time it's for real! This is stuff I just don't see any point in taking seriously--not even some of the novel theories being propounded based on it. Even some very wacky Lefties can see this is a waste of time:
The Guardian has so destroyed its credibility among US media by continuing to publish the frauds and fabrications of Luke Harding that even hard-core Russiagaters like @juliaioffe are united with people like me in warning not to trust what they publish.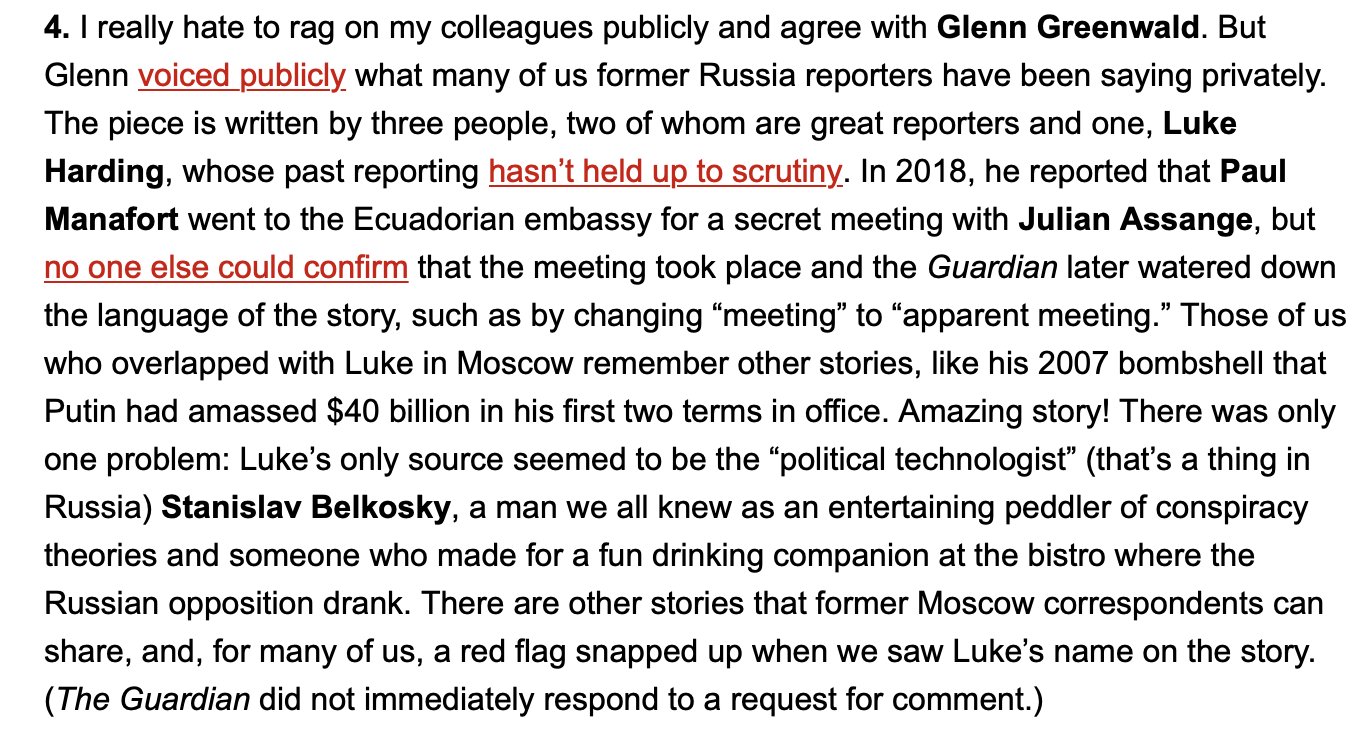 But now here's something rather interesting. Unfortunately it's the kind of thing where it's difficult to sort out who to trust, which version to trust:
The new book by WSJ reporter @MichaelCBender recounts how -- while many leading Dems were praising Trump's 2020 killing of Iranian Gen. Soleimani -- both @mattgaetz and @TuckerCarlson were telling him he was wrong to do it and to avoid further escalation with Iran.

Trump told both Gaetz and Carlson he was pressured into it by GOP Senators, using their leverage of impeachment.

Either way, left-liberals who either refuse to see these trans-ideological opportunities on imperialism or who think they're too good for them are posturing frauds.
Now check out the two relevant pages on this story that I found here--the second page is very important. Talk about a snake pit!