Clarification: Yes, the Election Hoax WAS the Big One--The Big Steal. What we're talking about here is Covid, and now we're being told by no less an authority than The Guardian that Covid wasn't The Big One.
WHO warns Covid-19 pandemic is 'not necessarily the big one'

Experts tell end of year media briefing that virus is likely to become endemic and the world will have to learn to live with it
Learn to live with Covid? We're a bit behind the learning curve at this point, aren't we? A good place to have started that learning process would have been in government schools, but--despite knowing, like, forever that kids aren't at risk--those schools are mostly all closed. A paid vacation for the unionized teachers, but it put the kids behind the educational 8-ball. Well played, Dems!
Here the Guardian's experts explain:
The "destiny" of the virus is to become endemic, even as vaccines begin to be rolled out in the US and UK, says Professor David Heymann, the chair of the WHO's strategic and technical advisory group for infectious hazards.

"The world has hoped for herd immunity, that somehow transmission would be decreased if enough persons were immune," he told the WHO's final media briefing for 2020.

But Heymann, who is also an epidemiologist with the London School of Hygiene and Tropical Medicine, said the concept of herd immunity was misunderstood.

"It appears the destiny of SARS-CoV-2 [Covid-19] is to become endemic, as have four other human coronaviruses, and that it will continue to mutate as it reproduces in human cells, especially in areas of more intense admission.

"Fortunately, we have tools to save lives, and these in combination with good public health will permit us to learn to live with Covid-19."

The head of the WHO emergencies program, Dr Mark Ryan, said: "The likely scenario is the virus will become another endemic virus that will remain somewhat of a threat, but a very low-level threat in the context of an effective global vaccination program.
Two things--we're still being gaslighted:
1. SARS-Cov-2 always was going to become endemic. Just like the four other coronaviruses that have been endemic among humans and other mammals throughout human history. Scientists always knew this, because that's the kind of research scientists in the biological field have been doing since viruses were discovered. I just finished reading Reiss and Bhakdi's Corona False Alarm? and they explain this very nicely, with voluminous references.

2. Another thing that Reiss and Bhakdi explain--and which many of you and all scientists and doctors already knew--is that the reason we haven't had another pandemic on the scale of the Spanish Influenza is that most of the victims of the Spanish Influenza didn't die from the virus--they died from secondary bacteriological infections brought on by the virus. Since 1918 the advent of antibiotics has changed that game, although the secondary bacteriological infections are still deadly among older, more vulnerable patients. The same is true with Covid-19. Bhakdi has discovered--totally unsurprisingly--that a large percentage of Covid patients developed bacteriological pneumonia, often a byproduct of ill advised intubation. He contends that much of this could have been avoided if Covid had been treated all along as what we know that it is: One more in a long line of viral respiratory infections.

So, when the WHO tells us that "we have tools to save lives," what they're really admitting is that the Covid situation is comparable to how we deal with the seasonal flu. In both cases we have non-vaccine treatments to deal effectively with the diseases--as was realized after the initial panic but was obscured for ... political reasons. And that remains true, vaccine or no vaccine.
Bhakdi is skeptical of the overall usefulness of these experimental vaccines, but then he probably doesn't have money in that game and so feels free to express common scientific opinion. His view, which he explains, is that there is already sufficient immunity in the general population to overcome the Covid-19 disease, just as is the case with seasonal variations of the flu. Further, he believes the risks outweigh any possible benefits--a result that will not be known until we're further down that road:

When will vaccination likely be unsuccessful? We predict that vaccination will fail when a virus co-existing world wide with man and animals continuously undergoes mutational change, and when individuals become exposed to high doses of virus during spread of the infection.
3. All the above also goes to explain why Bhakdi--a world class researcher in the field, is also a skeptic about the recurring vaccine hypes associated with new strains of the flu. Bhakdi specifically discusses the dangers that were associated with the Swine Flu vaccine--a vaccine for a virus that petered out on its own.
Now, all that aside, one would expect that the hardest hit Blue States would be following WHO's recommendation that the most vulnerable--i.e., the most elderly--should be vaxxed first. However, if one expected that one would be revealing one's ignorance of how the new Woke Science works--it works on a whom-do-you-know basis, not on a medical need basis. In other words, cronyism, just as always happens with the Left (h/t Ray So-Cal). One graph tells the story in Chicago that is being repeated in other Blue jurisdictions: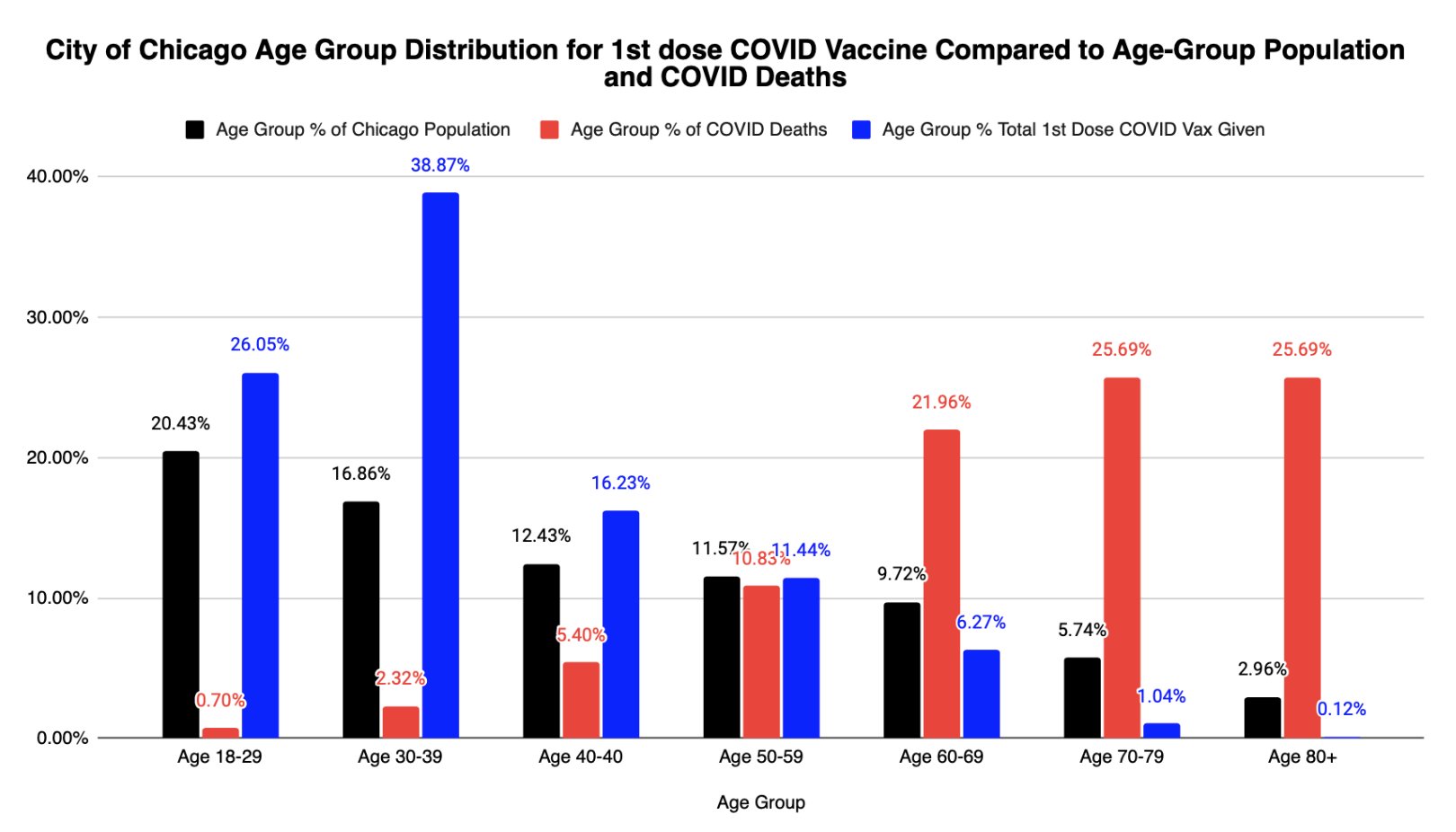 Read more here, if you're inclined: Democrat Governors Now Ignore CDC COVID Recommendations In Their Campaign Against The Elderly. (h/t Ray So-Cal)