We're about to find out how far the reach of the Deep State goes. Judging from the statement made by Kevin Clinesmith's lawyer, Clinesmith now intends to back out of his plea agreement with John Durham. He is claiming that he never intended to deceive anyone when he altered a CIA document--presenting to other investigators and lawyers and to the FISC as a CIA document what had become throught the alteration his own document; presenting as a CIA judgment what was in fact his own preferred interpretation.
He will defend that by claiming that he believed that Carter Page was not an "actual" source. In other words, it all depends on the meaning of the word "source." The CIA and Michael Horowitz and the FBI and DoJ may believe that Page--an "operational contact" of the CIA from 2008 to 2013--was a "source", but Clinesmith knew better and was therefore justified in altering a document produced by the CIA yet presenting as the CIA's actual judgment on the matter.
That appears to be the implication of his lawyer's statement, as also buttressed by the NYT--official spokesman for the Deep State. Here is his lawyer's statement:
"Kevin deeply regrets having altered the email. It was never his intent to mislead the court or his colleagues as he believed the information he relayed was accurate. But Kevin understands what he did was wrong and accepts responsibility."
No judge can accept a plea of guilty to making false statements framed in those terms. The plea will have to be rejected unless Clinesmith backs away from that statement and agrees that his alteration made the CIA email misleading.
The NYT offers us this parsing of that statement:
Mr. Clinesmith's argued that he did not change the document in an attempt to cover up the F.B.I.'s mistake.

His lawyers argued that he had made the change in good faith because

he did not think that Mr. Page had been an actual source for the C.I.A.
We're about to find out if the Deep State has got to Clinesmith and persuaded him to offer himself up in what I have to believe will prove to be only a delaying tactic. I find it hard to believe that a DC jury will accept this argument, or that any judge will endorse it through jury instructions.
Nevertheless, in a signal from the depths of the Deep State, Andrew Weissmann--who has been tweeting furiously, in a clear sign that his own future is at stake in the Clinesmith case--offered this yesterday: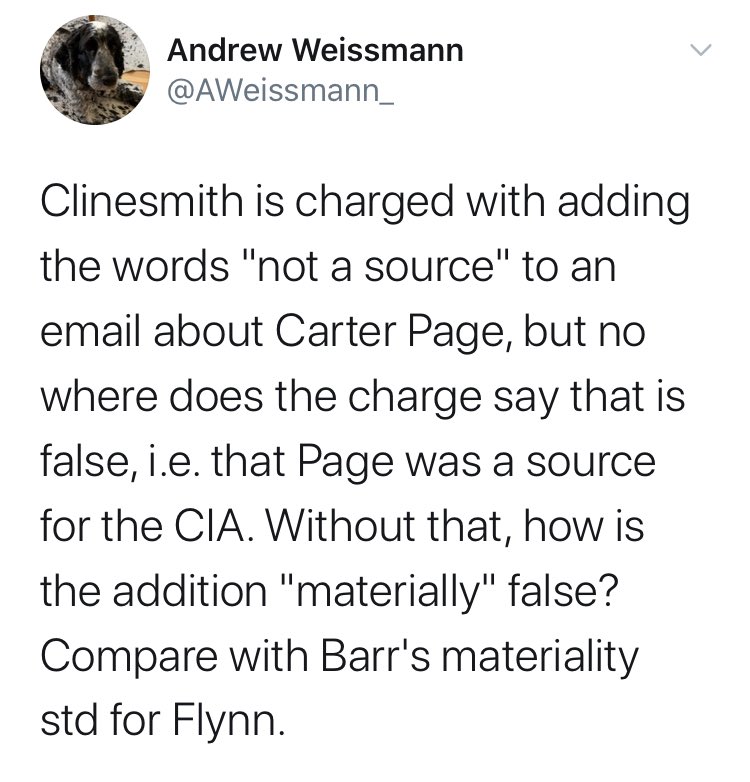 Compare that with the information filed by Durham:
"On Aug 17, 2016, prior to the approval of FISA #1, the OGA (CIA) provided certain members of the Crossfire Hurricane team a memorandum indicating that Individual #1 (Page) had been approved as an operational contact for the OGA (CIA) from 2008 to 2013 and detailing information that Individual #1 (Page) had provided to the OGA (CIA) concerning Individual #1's prior contacts with certain Russian intelligence officers. The first three FISA applications did not include Individual #1's history or status with the OGA (CIA)."
Is Clinesmith on the fence and is Weissmann desperately trying to get him to come down on the Deep State side? Will Clinesmith ultimately come down on the side of justice? We're about to find out. It's about the meaning of the word 'source'. And the words 'rule of law.'