Disgraced former CIA Director John Brennan was interviewed for 8 hours at CIA Headquarters today. The interview was led by USA John Durham. We're told by Brennan's team:
Brennan was informed by Mr. Durham that he is not a subject or a target of a criminal investigation and that he is only a witness to events that are under review.
Of course, if as a witness Brennan attempts to obstruct Durham's investigation ...
Brennan also confirmed, indirectly, that Durham remains focused on the Intelligence Community Assessment (ICA):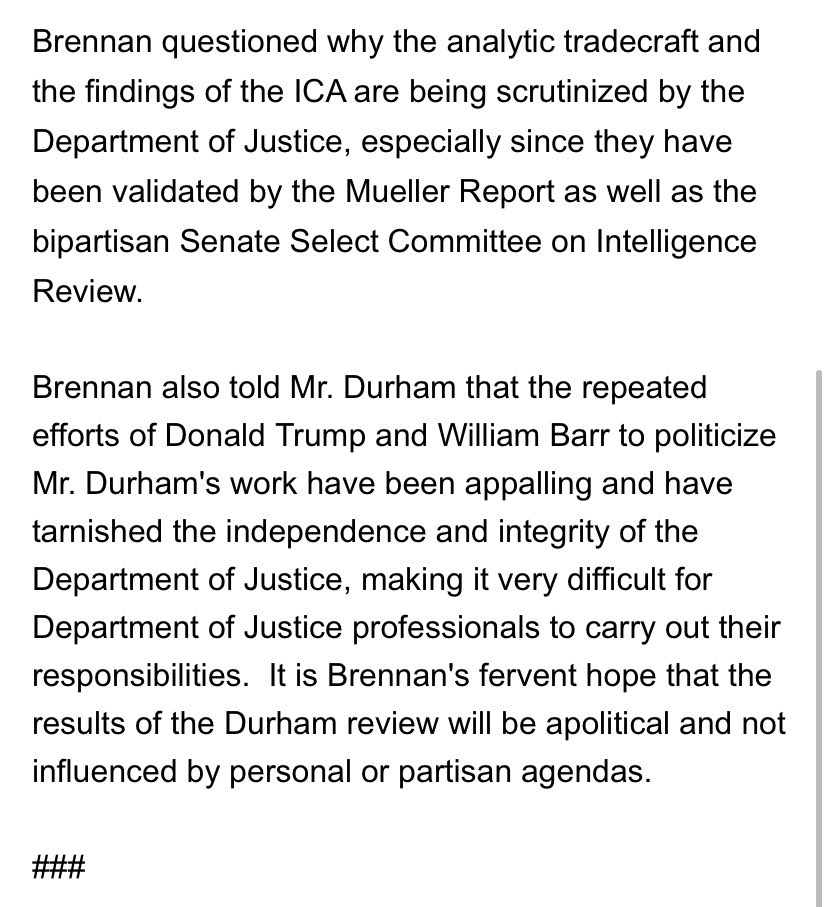 Sundance has tried to redeem himself, after a self destructive post this morning in which he revealed a shocking lack of understanding of law and procedures surrounding FBI and CIA investigations and organization. Tonight, he emphasizes the likelihood of coordination among the the Intel Community heads (Brennan, Comey, Clapper), the DoJ under Rosenstein, Team Mueller, and the Senate Intel Committee (SSCI)--coordination aimed at bringing Trump down and removing him from office. This is what I have referred to as the Big Picture conspiracy of the Russia Hoax.
What we're all waiting to see is whether Durham can prove that Big Picture conspiracy, or will be confined to charging a few individuals with discrete criminal violations similar to what happened with Clinesmith. One of the keys to that conspiracy, as many have emphasized over the past several years, is the Intelligence Community Assessment (ICA), with its Annex--a summary of the Steele Dossier. In order to prove that the ICA was a deliberate fraud intended to justify fraudulent investigations--and, crucially, the Mueller witchhunt--Durham needs to prove that the conspirators new that the Steele material was fraudulent. That being the case it's no surprise that Durham's interview of Brennan centered on the ICA.
The conspirators have cleverly managed to distance themselves from being tied to conclusive knowledge of the fraudulent nature of the Steele material--despite the obvious facts. We know that Durham has tried to find proof of collusion between James Comey and Brennan on the ICA. The fact that Durham apparently told Brennan that Brennan was being treated as a witness probably means that that evidence--in the form of emails--has not been found. Brennan has therefore probably been able to push responsibility for the Steele material off on Comey. Comey, then, will be left to plead, in effect, unprofessionalism and incompetence, as opposed to criminal intent. The Danchenko interview could change that picture for events that came later than the inauguration, but by then Brennan was out of the official picture.
As sundance has maintained, the likelihood is that the role of the SSCI has been effectively covered up. Shipwreckedcrew maintains that the reason for this probably has to do with James Wolfe destroying evidence of his leak of the FISA application--wiping his phone. No evidence, no conviction, so the best the FBI could do at that point was get Wolfe for lying to investigators.
That leaves the FBI and the DoJ under Rosenstein--including, most particularly, Team Mueller--as the groups that are most obviously still at risk from Durham. Durham may be able to bring cases against a number of key players for their roles in separate episodes. Actually proving the Big Picture conspiracy will depend on how much cooperation Durham has been able to extract from the few who were closest to the top. Where his investigation stands in that respect is knowledge that we lack, but at least one reported cooperator--former FBI General Counsel James Baker--could be in a position to provide crucial evidence regarding Comey's knowledge of the Big Picture. Time will have to tell.
Until Durham's investigative work is finished it will be too soon to speculate on a major report that could expose the Bigger Picture. That will be a momentous decision for AG Barr. He has spoken of the right of the American people to an explanation of what was transparently a coup attempt--even if our legal system is not equipped to deal with such a circumstance. In that case, a report may be the best alternative.