I didn't really want to write about this, but it may be useful to place this kid in some sort of context.
I agree with those who maintain that, from a strictly legal point of view, he almost certainly shot
three criminals
in self defense.
However, that won't be the end of the story and it doesn't mean that either Rittenhouse or the other knuckleheads he was apparently with were behaving sensibly. He shouldn't have been on "riot duty"--contrary to what he told the Daily Caller, that wasn't his "job" because he wasn't trained for it. Rittenhouse's lack of training as well as the lack of training of the others he was with, showed in how events went down. They clearly had no coherent plan for what they intended to do if they were confronted or even surrounded by an aggressive and hostile crowd. The result was they got run out of the area they claimed to be defending, so from that standpoint they were ineffective.
That said, the people who hold the greatest responsibility for ALL the violence in Kenosha following the arrest of Jacob Blake are government officials. Above all, --and, above all, WI governor
Tony Evers
who turned down President Trump's offer of 500 National Guard troops to help an overstretched local law enforcement contingent.
Further, Rittenhouse was 17. I'm not an expert on IL or WI gun laws, but a cursory bit of research leads me to believe that he was not legally allowed to own or possess the rifle he was carrying in either state--no matter that WI is an "open carry" state. Gun laws can be a bit complicated, but it seems clear enough that he was in violation of IL law and almost certainly of WI law. Beyond that, whoever gave him access to the rifle is probably in serious trouble--at least in IL.
Who is Kyle Rittenhouse? Naturally, we're finding out more and more about him as the day goes on.
I've read in one place, but as far as I know it remains unconfirmed, that his father is a police officer. Accepting that, the picture we appear to be getting is of a teen from a broken home, who perhaps idolized his father's profession, and desperately wanted to grow up as a strong male role model. Not a bad kid, probably a good kid--and, again, I believe he has a strong chance of getting off the charges that have been bandied about by WI authorities. Nevertheless, he showed bad judgment in getting involved with a group that was in over their heads. Hopefully he'll get control of his life going forward, as the phrase goes. In the meantime, he'll certainly be in trouble over the gun possession at an absolute minimum, and the person who allowed him access to the gun will probably be in much bigger trouble.
The
Chicago Tribune
reports additional details:
There's one absolute truth about Kyle Rittenhouse, ....
He idolized police.
His Facebook page, which was deactivated Wednesday morning after his bond court appearance, pays repeated homage to law enforcement, including a picture of him holding a long-arm rifle and framed with the "Blue Lives Matter" logo. ...
The young man also has a years long affiliation with local police cadet programs, with photographs on social media showing him in full uniform complete with a badge, arm patch and trooper-style campaign hat. The Grayslake, Lindenhurst, Hainesville Public Safety Cadet program had pictures of Rittenhouse participating in its activities on social media before its Facebook page also was taken down Wednesday.
Yet it was Rittenhouse's own local Police Department that arrested him around 5 a.m. Wednesday in Antioch, where he lives in an apartment complex with his mother. ...
...
Rittenhouse attended an Iowa Trump rally in January, and video from the event shows him cheering for the president from the front row. The teen also posted a video from the rally on one of his two TikTok accounts.
His other TikTok account contains a video of himself firing a semi-automatic rifle at a target, while the song "Sail" by Kreepa plays. The rifle in the video, which was posted earlier this month, appears identical to the one he was seen carrying Tuesday night.
... It's unclear why Rittenhouse decided to involve himself in the unrest in Kenosha following the police shooting of Jacob Blake, ... In videos posted Tuesday night before the latest shootings, an armed Rittenhouse can be seen hanging out with older men who are carrying weapons and saying that they are protecting a boarded-up gas station.
Breitbart
adds further detail about Rittenhouse's activity earlier in the day:
A Getty Images photographer appears to have captured a photo of Rittenhouse earlier in the day, though he is not identified in its caption: Volunteers clean graffiti from a high school near the Kenosha County Courthouse following another night of unrest on August 25, 2020 in Kenosha, Wisconsin. (Scott Olson/Getty Images)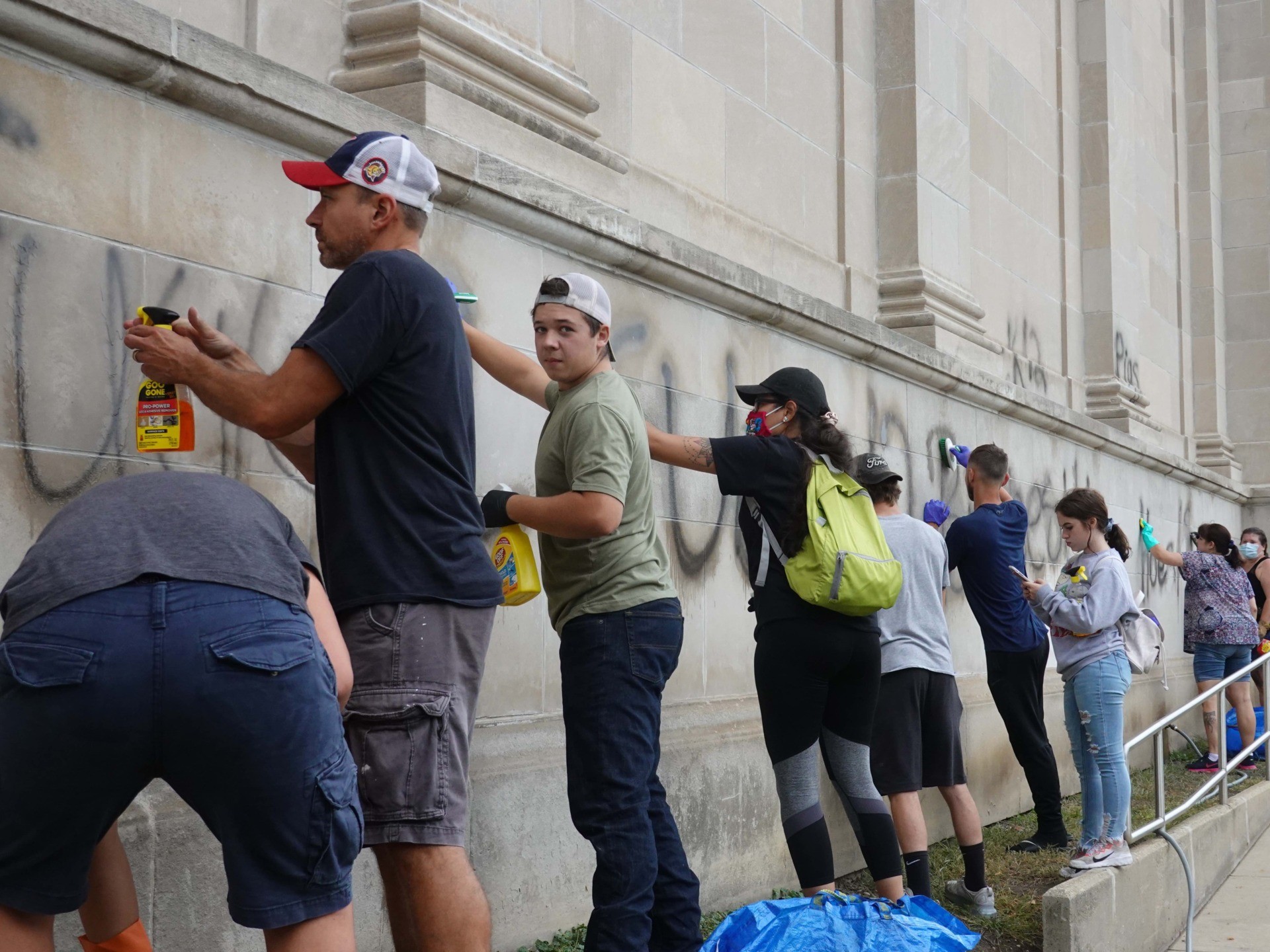 You can watch a video of some of the libertarians who showed up, "forming up" to protect property in Kenosha. One of the knuckleheads can be heard telling the Antifa/BLM crowd: "As long as you f*ck with the government and not with each other we are with you!"
GASLIGHTING: the shooter was a libertarian who said he was in support of the BLM movement

Also said he supported their right to protest and target government property

The group wasn't even all white & openly said they were there to protect BLM

VIDEO EVIDENCE DOESN'T LIE

https://t.co/mRS9za94rJ pic.twitter.com/B1AwigZ4Fl

— ELIJAH RIOT (@ElijahSchaffer) August 26, 2020
That's not a look that the Trump campaign wants associated with it, I don't think.