The heart of the Flynn case lies in its origins--the claim that there were specific and credible facts to support the belief that Michael Flynn, the former head of the US Defense Intelligence Agency, was an agent of the Russian intelligence services. As we now know, this claim was never presented to the single person who most needed to be aware of that fact: President Donald J. Trump.
While that is the heart of the Flynn case, at the heart of the prosecutorial misconduct throughout the investigation and prosecution of Flynn is the FBI's FD-302 (302), the report of its interview with Flynn, who had become the National Security Adviser in the new Trump administration. That interview took place on January 24, 2017, under the pretext of a need to discuss Flynn's perfectly reasonable official business--contacts with the Russian ambassador--a transcript of which had been leaked to the Washington Post. The interview was conducted by two FBI officials: Peter Strzok and Joe Pientka.
This 302 has long been a matter of controversy, due to doubts whether the version that was ultimately provided to Flynn and his lawyers is the original version or may in fact have been edited in a way that misrepresented Flynn's statements in the interview. Those doubts were recently heightened by the admission from the prosecutors that they had misidentified which agents (Strzok and Pientka) wrote which of the two sets of notes that were said to derive from the interview.
I've previously stated my view that the basic trajectory of the Flynn investigation and prosecution ran something like this.
The FBI, immediately after the interview, initially doubted that they had the false statement case against Flynn that they had hoped to obtain in the course of the interview. We have been told this by disgraced former FBI Deputy Director Andrew McCabe, who was in a position to know. In the event, Flynn was forced to resign because of a conflict with Vice President Pence. However, with the advent of Team Mueller, the Flynn case was resurrected in a new form: Team Mueller decided to seek to coerce Flynn into a guilty plea in order to squeeze from him damaging claims about President Trump. The hope was to get Flynn to plead guilty to a false statement charge, under the claim that he had lied to the FBI.
Over the course of months, Flynn refused to state that he had lied--and Team Mueller never indicted him. However, when Deputy AG Rod Rosenstein agreed to allow Team Mueller to target Flynn's son, Team Mueller confronted Flynn and told him they would indict his son the very next day unless Flynn agreed to plead guilty. Flynn caved.
This tactic had the important effect of limiting Flynn's access to investigative information--including the 302--that might be crucial to his defense. It was something like a Catch 22. As long as Flynn had been indicted but was under investigation, Team Mueller was under no obligation to provide information favorable to the defense (Brady material). However, as part of the plea agreement Flynn agreed to forgo his right to those materials. For reasons that I won't go into here, that has all changed and Flynn's new legal team, led by Sidney Powell, is demanding access to a very wide range of information--including all documentation regarding the now famous 302.
On October 31, 2019, Undercover Huber published a long analysis of the 302. It's an excellent analysis and raises several important points. What follows is a fairly detailed review of that analysis, with additional comments.
Huber's starting point is actually a point of departure--Strzok's departure in disgrace from Team Mueller. In connection with that departure Strzok was interviewed about his participation in Team Mueller investigative activity, including the Flynn case:
"On 07/19/17 Strzok was interviewed by a Senior Assistant Special Counsel & an FBI Supervisory Special Agent.
"This was Strzok's "exit" interview after he'd been forced to leave the Special Counsel due to discovery of his biased text messages.
"It's a felony to lie in this interview."
In that interview Strzok stated that Joe Pientka was "primarily responsible for taking notes and writing the FD-302" summary of the Flynn interview.
As Undercover Huber points out, Strzok was almost certainly lying. Why does Huber think so, and why do I think there could be a reason why Strzok would lie? Lets consider those two questions each in turn.
When FBI agents conduct an interview in a criminal investigation--typically a pair of agents--the agent in charge of the investigation normally does most of the talking and is responsible for writing the 302 summary of the interview. Both agents may take notes but, since the "lead" interviewing agent may be too occupied with the back and forth of the interview to take detailed notes, he may rely on the other agent to do so and may write his own notes immediately afterward. The point of this is simple. The value of interview notes is as a contemporaneous record of what was said in the interview. A delay in note taking transforms that dynamic entirely--"notes" written days later are not notes in that sense but are quite simply later recollections, subject to all the vagaries of human memory. More properly, they really amount to a rough draft of the projected 302. I have stated that I believe that of the two sets of notes the FBI claims were taken at the interview, in fact the more detailed (and neatly written) notes were in fact a rough draft of the 302. I believe Undercover Huber's analysis supports that contention.
Another very important fact to bear in mind in this regard is this: The Five Day Rule you may have heard of--an internal FBI rule--means that the final 302 write up is to be completed within five days. That does not refer to the "final notes," as some have mistakenly stated. It refers to the final interview write-up--the completed 302. The notes, to be of value as notes, must be contemporaneous with the interview itself, and the purpose of the Five Day Rule is to enhance the claim the FBI makes for the reliability of its reports by ensuring that the final 302 is completed within a few days of the interview and note taking. It should go without saying that, once completed, the 302 must not be altered.
A good example of this in practice can be obtained from the accounts we have of the conversation that disgraced former FBI Director James Comey had with then President-elect Trump at Trump Tower on January 7, 2017. Comey was attempting to elicit damaging statements from Trump, and to do so he presented salacious details of the so-called Steele "dossier". Comey claimed to be concerned that those details would soon become widely known, which of course happened, thanks to a premeditated leak. The hope was that by raising this topic Trump would make statements that could be used against him.
Obviously, in a situation of this sort, Comey was not in a position to take notes--that would have given the game away. But what he could do, and did do, is this: Comey and the FBI ensured that an FBI vehicle was waiting right outside Trump Tower, with a laptop on which Trump could type up notes of his conversation with Trump within minutes of its conclusion. Then, if called later to testify, Comey would be in a position to maintain that he was providing a true and accurate account of the conversation, as confirmed by his contemporaneous notes.
So, back to Strzok.
As we saw, Strzok stated in the interview conducted upon his dismissal for cause from Team Mueller that Joe Pientka was "primarily responsible for taking notes and writing the FD-302" summary of the Flynn interview. However, he also said that he, Strzok, "conducted the interview".
Now, every FBI agent knows that it's overwhelmingly likely that the agent who conducts the interview will be the agent who writes up the interview. The reason is that the note taker, preoccupied with writing, will be less likely to be fully involved with the subject of the interview. He may miss a nuance in voice or expression, or fail to fully appreciate the meaning in context, in his hurry to transcribe the words.
The new information about the notes, referred to above, leads Undercover Huber to assert:
"Newly available evidence strongly suggests Strzok did lie: it was *Strzok* himself who wrote the 302, & largely from his own notes, NOT Pientka's."
At this point, we need to keep firmly in mind the interesting fact that the FBI openly admits that they broke their Five Day Rule, and they did so in an exceptionally important case. The National Security Adviser a Russian agent? How much more important a case could there be? Here is what happened:
"The earliest 302 DOJ has provided is from 02/10/17. The Flynn interview was on 01/24/17 (17 days earlier). So it is highly likely there are earlier drafts, but on Oct 29 DOJ (Brandon Van Grack; a former Senior Assistant Special Counsel) denied DOJ is "hiding" an "original 302."
Let's note a few things. First, the 302 wasn't just a few days late--I assure you that a 17 day delay was outrageously late. A delay of that sort destroys the presumption of unbiased accuracy based on relative contemporaneity with the interview itself and the notes. Again, the reason for this is common sense: notes can themselves become a matter of interpretation, even for the note taker, after a few days have passed--we will see that Pientka raises concerns that reflect that reality. But what if ...
What if the FBI wasn't being honest about flagrantly breaking its own rules? What if there really was a 302 that was written up in timely fashion--whether by Strzok or by Pientka. That, to me, is the more likely scenario, simply because this interview was far too important for such laxity, as the example of Comey's write-ups of his conversations with Trump show. If this is the case, then the FBI and Team Mueller have a very big problem, because then misconduct will have crossed a bright red line into the realm of criminality.
The first step in resolving this may well be in determining which of the two, Strzok or Pientka, wrote the 302 that we have access to. Here there's really no substitute for perusing Huber's analysis first hand, but I'll try to summarize.
What Huber does is place the draft 302--we're referring, of course, to the one dated 2/10/17--next to the two sets of notes. By doing so, he's able to show that Strzok's very detailed "notes" follow the overall outline of Pientka's sketchier notes in terms of the order of topics discussed, but with added details. However, he is also able to show that the wording of the 302 follows the wording of Strzok's "notes" rather than the wording of Pientka's notes. Further, on the draft, Pientka twice specifically notes that he doesn't remember something that Strzok has inserted. Clearly, as we've maintained all along, Strzok was in charge. Here's how Huber puts it:
—The 302 systematically & overwhelmingly (30+ examples) contains words & phrases ONLY noted by Strzok & NOT by Pientka
—Crucially this includes two where Pientka explicitly comments that he "couldn't remember" Flynn saying this & "[I] dont...have in my notes"
Pientka's "can't remember that" comments are very important. Remember, this was likely the most important interview either of these agents had ever conducted. Pientka wasn't merely along for the ride, as a passive witness. He would have been keyed up for the interview. The two agents would undoubtedly have discussed the interview themselves and again when they got back to FBIHQ with all those officials who had participated in the planning of the interview over a two day period. Therefore, for Pientka to basically challenge Strzok's version, that's significant. And it's also a clear indication that Strzok is in charge of writing the 302--as we posited.
Their well known conclusion at the time was that Flynn was being truthful, and that leads to this bit of speculation. Is it possible that, having initially decided that there probably was no case, Strzok told Pientka: Look, you write it up. Andy McCabe's got me working on other things. Then, when it was suggested (by McCabe?) that maybe the 302 could be tweaked a bit after all, Strzok took control again--which he certainly was when the known draft was produced. Here are the text exchanges between Strzok and Lisa Page (McCabe's lawyer, who also got involved in shaping the final 302), which show that Strzok was in charge, not Pientka--Pientka was reviewing what was primarily Strzok's work at that point: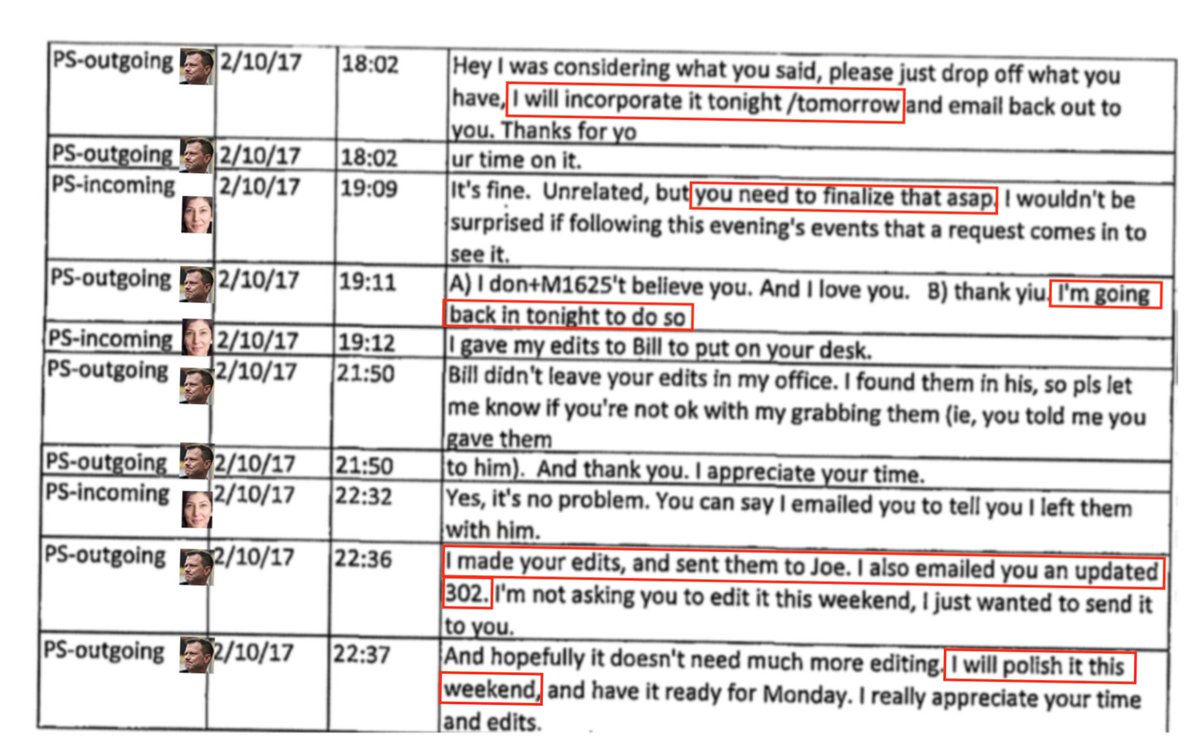 And here's one last anomaly that's worth noting. Normally, the "lead" agent in an interview is, as I've said, the agent who also writes up the 302. And that means that normally his name goes first, both at the top of the report, and also at the bottom of the 302 form. That bottom part of the form is generated first through a macro, then the writer is, as it were, dumped out of the macro to write the report. Here's the anomaly. If you look at the 302 for this interview (p. 2 of the linked pdf), you'll see that at the top--where the actual report begins--the names appear in this order: 1) Strzok, 2) Pientka (redacted). But at the bottom, in the portion generated by the macro, they're reversed: 1) Pientka (redacted), 2) Strzok. That's strange, and it makes me wonder whether the 302 was diddled with. From my own viewpoint, that tends to suggest to me that Pientka wrote the 302--but we know that the one we've seen was almost certainly predominantly the work of Strzok. Could the body have been edited, but case management software wouldn't allow a change to the part that was generated by the macro? Someone who knows more about digital tracking will have to figure that out, but that's an anomaly that, in my opinion, demands investigation and an answer. Because that's just not the way things are done in the FBI.
Whether this speculation is accurate or not, it's easy to see why Powell wants to see the full digital record of documents relating to that interview. Team Mueller claims they don't have any "original" 302 but, as Powell maintains, what they may have in their own physical possession isn't the whole story--the FBI should be able to recover all such records from their case management system. There are far too many questions at this point to take Team Mueller's word for it.
It seems clear at this point that Strzok lied when he claimed in his exit interview from Team Mueller that Pientka wrote the 302. It may have been true that Pientka wrote the "original" 302, but there's no real doubt that the 302 that emerged from the shaping process was substantially Strzok's work--with assists from Lisa Page and possibly others. Why, then, did Strzok lie about this on 7/19/17 in his exit interview?
My view is this. Strzok was leaving Team Mueller in disgrace, his outrageous bias against Trump and other misconduct revealed and documented. That bias and misconduct would constitute

Brady/Giglio

material and would, of course, bleed over into the Flynn case that Team Mueller had revived. At that early date Team Mueller couldn't be sure that the interviewing agent might not have to testify. If circumstances arose in which they were forced to reveal that Strzok had all these black marks against his name, all of them related to the case in hand, Strzok's presence and his past could ruin the case.
Pientka, on the other hand, had--as far as we know--a clean record. Why not attribute the Flynn 302 to Pientka? In that way Strzok's problems would never arise. And, after all, maybe attribution of authorship is ... a matter of interpretation?
As things developed, Team Mueller's prosecutors finessed it by delaying indictment and then coercing a plea deal in which revelation of these matters was precluded. Until Judge Sullivan took over the case.
And now Team Mueller, in the person of Brandon van Grack, has been backed into a corner, desperately trying to reposition.