An excerpt from Wayne Allen Root's Has Joe Biden Sold America out to the Mexican Drug Cartels? (I linked to FR to avoid all the extraneous "stuff" on Townhall pages.)
Experts estimated the money made on drug trafficking by the cartels at around $500 billion a year. That's half a trillion dollars a year -- "trillion" with a T.

Who quotes that figure? Republican senators. See what Georgia Sen. David Purdue said in 2019: "At half a trillion dollars -- $500 billion -- that makes the cartel business and the drug traffic just in Mexico alone coming across to the United States bigger than Walmart, to put it in perspective. So this is larger than our largest companies."

But that figure is bipartisan. Democratic Sen. Dianne Feinstein quotes a figure in a similar range: "The illicit drug trade is a business, valued at anywhere between $426 and $652 billion."

That was all before Joe Biden's lax open-borders policies.

But that's just drugs. What about human trafficking? Nearly 100,000 migrants crossed the U.S. border in just the past month. Multiply 100,000 migrants times 10,000 ($10,000 is a common going rate for smuggling humans). That's $1 billion for human trafficking in a month. Now add in child sex trafficking.
Follow the link to read the rest.
Obviously, Root has an interesting--if not entirely original--theory working here: Follow the money. What in the world are the cartels doing with all that money, year after year? Who ever heard of getting fabulously rich and not paying any taxes--taxes or something? Or, to put it in Root's own cynical words: "Who would you pay if you were a Mexican drug cartel kingpin?"
According to Reuters, 'Migrant president' Baiden stirs Mexican angst over boom time for gangs. Lopez-Obrador longs for the good old days of El Presidente--Donald Trump. He knows that this Progressive open borders scam will vastly empower the cartels vis a vis the Mexican government. One can only imagine his inner thoughts when Zhou told him:
"We look at Mexico as an equal, not as somebody who is south of our border. You are equal."
Also, we'll respect you in the morning.
UPDATE: Yes, already. From yesterday, from the Epoch Times via Zerohedge: Fentanyl Flowing Into United States At Record Volume.
CBP [Customs and Border Patrol] has seized more than 5,000 pounds of fentanyl since Oct. 1, 2020, said acting CBP Commissioner Troy Miller during a March 10 media call.

"We are seeing a dramatic increase in fentanyl seizures this fiscal year, more than 360 percent higher than this time last year," Miller said.

"Nationwide drug seizures increased 50 percent in February from January. Cocaine interceptions increased 13 percent, seizures of methamphetamine increased 40 percent, seizures of heroin went up 48 percent."

Fentanyl is the synthetic opioid attributed to the escalating overdose death rate in the United States. It is most often manufactured in Mexico using chemicals supplied by China. It's mixed with other narcotics to increase potency as well as pressed into counterfeit pain pills commonly known as "Mexican oxys."
To put the resulting mortalities in a picture: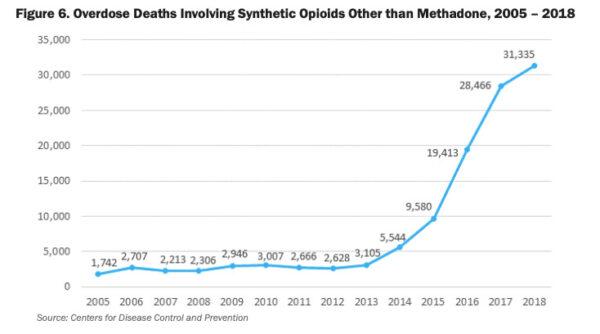 Who was it who thought open borders would be a good idea? Does anyone think about stuff like this before they vote?