NYO stands for New York Office--that's how we referred to the New York Field Division of the FBI when I worked there. Recent revelations are showing us a lot more about the interaction between the NYO and FBIHQ in the Crossfire Hurricane Russia Hoax. Those revelations center around Stephen A. Somma, aka "Case Agent 1" in the Horowitz Dossier.
Commenter Mike Sylwester pointed me to this article by Chuck Ross--
FBI Agent Faulted In FISA Report For 'Significant' Errors Has Finally Been Identified
--which works off
a NYT article
. The FBI agent is, of course, Stephen Somma. The NYT article appears to be attempting to push blame for the fraudulent Carter Page FISA applications on to Somma, rather than operatives at FBIHQ. This is done partly by equating what Somma did with those applications--omitting key exculpatory information about Page, for example--with the actions of the FBI in its hunt for the mole that later turned out to be FBI agent Robert Hanssen. In the Hanssen case, the FBI--convinced that one of their own couldn't possibly be a spy--focused on innocent CIA officer Brian Kelly and ignored all evidence that point toward Hanssen. In fairness to the NYT, their narrative receives significant report from the wording of the Horowitz Dossier with regard to Somma--who was also the case agent for Stefan Halper.
Chuck Ross provides a convenient summary of Somma's actions, as revealed in the Horowitz Dossier:
"Case Agent 1" [Somma] is singled [out] in the report as being

"primarily responsible for some of the most significant errors and omissions in the FISA applications."
Somma was involved in multiple aspects of Crossfire Hurricane, the FBI counterintelligence investigation of the Trump campaign. (RELATED:

FBI Agent Who Played 'Significant' Role In Surveillance Abuse Wore Several Hats In Trump Probe

)
According to the IG report, he was the FBI agent who initially sought a surveillance warrant against Page. Somma pushed for a FISA warrant "almost immediately" after the FBI opened Crossfire Hurricane on July 31, 2016, the IG said.
Somma's initial request was rejected, but FBI lawyers later approved seeking a FISA warrant on Page after the bureau received information from former British spy Christopher Steele. In his dossier, Steele alleged that Page was a key player in the Trump campaign's "well-developed conspiracy of cooperation" with the Russian government to influence the 2016 election.

The IG report said the FBI failed to verify the allegations about Page before using Steele's information in FISA applications. The special counsel's investigation undercut the idea that Page or anyone on the Trump team worked with Russians.
Somma was in charge of verifying the accuracy of information included in the FISA applications. He was also the FBI handler for Stefan Halper, a former Cambridge professor who met with and secretly recorded Trump campaign aides Carter Page, Sam Clovis and George Papadopoulos.
The IG report said Somma failed to disclose potentially exculpatory information that Page and Papadopoulos told Halper. He also failed to disclose that the CIA told him on Aug. 15, 2016, that Page had been an "operational contact" for the agency years earlier.
Perhaps Somma's most egregious omission deals with an interview he conducted in January 2017 with Steele's primary source for information in the dossier.
According to the IG report, the Steele source, referred to as "Primary Sub-Source," told FBI agents that Steele misrepresented information attributed to him in the dossier, including about Page. The FBI and Justice Department failed to disclose the information in its final two applications for FISA orders on Page.
Largely because of the omission, the Justice Department has deemed the two orders to be invalid.
The IG report also said that "Case Agent 1" took part in five interviews with Page in March 2017.
First of all, I don't want to be misunderstood--I am in no way suggesting that Somma was anything other than a conscious participant in the fraud on the FISC. However, because of the nature of Carter Page's cooperation with the FBI in the NY case against several Russian intel officers, Page would have been well known to FBIHQ. Approval for filing charges against the Russians would have had to have gone through FBIHQ, so they would know the details--which were exculpatory. FBI files should contain extensive documentation of communications between NYO and FBIHQ about Carter Page, and certainly once Crossfire Hurricane was opened the agents handling it at FBIHQ would have gathered all information available re Page--not simply waited for NYO to return the Woods material. At that point, it had basically become an FBIHQ case. The same considerations, of course, would apply to seeking information about Page from the CIA. The whole case against Page was a fraud from beginning to end, from any legitimate CI perspective.
Stephen McIntyre has
a nice thread
that illustrates the type of interaction that would have been going on between NYO and FBIHQ with regard not only to Carter Page but with other aspects of the Russia Hoax--Stefan Halper, for example. I have little doubt that there's much more to this story:

Here's a little discussed excerpt from Horowitz Report. After blowup between NYFO and Carter Page on Mar 2, 2016, NYFO contacted FBIHQ Counterespionage Section (in Counterintelligence Division) about opening investigation on Page. Received approval email from Section on April 1.

Carter page has stated that the referenced "blowup" was because he refused to testify falsely in the the NY case against the Russian officers he had cooperated against.

2/ Horowitz didn't identify who NYFO contacted at FBIHQ Counterespionage Section or who within Section approved the case. Nor did Horowitz connect the incident to known figures in Crossfire Hurricane.
But there's an important (to say the least) link.
3/ in March and April 2016 (and still on July 31, 2016), the Section Chief, Counterespionage Section was ...... Peter Strzok.

4/ on March 21, 2016, Carter Page (then and subsequently not personally known to Trump) was identified as a member of Trump's foreign policy advisory team.

5/ OGC - presumably Sally Moyer and Kevin Clinesmith (the lawyer who later committed fraud on FISA) - were consulted on whether this was Sensitive Investigative Matter (SIM) and thus requiring additional notices and authorizations.

Astoundingly they didn't require SIM.
And, of course, no "defensive briefing" was contemplated for the Trump campaign re Page.
6/ Horowitz also noted that the "relevant CD [Counterintelligence Division] section" at FBIHQ was consulted on SIM (as well as OGC [Office of General Counsel]). He didn't identify section (which appears to be a different section than Strzok's Counterespionage).
7/ the bottom line is that key operatives in the opening of the Crossfire Hurricane operation were previously involved in the approval of the NYFO Carter Page investigation shortly after Page announced as Trump advisor: from OGC (Moyer, Clinesmith); Counterespionage (Strzok) ++?
8/ Horowitz reported that, according to McCabe's contemporary notes, Carter Page, Manafort were discussed at July 29 meeting with Comey PRIOR TO opening of Crossfire Hurricane.
The idea that FBIHQ simply deferred to NYO in all matters regarding Carter Page is absurd. This was, from the beginning, the biggest case in FBI history--they were targeting a candidate for POTUS.
One final word regarding the comparison of the Page FISA to the Hanssen case--or, rather, the Brian Kelly case.
As misguided and incompetent as the FBI was in the Hanssen case, they were
sincerely
misguided and incompetent. They really believed in their case against Brian Kelly, the innocent CIA officer. There is no indication that I'm aware of that "evidence" against Kelly was manufactured or knowingly misrepresented, nor that exculpatory information was knowingly withheld. As regards Carter Page, however, the FBI knowingly used the Steele material without any meaningful verification--as Comey himself has stated--and with full knowledge that Steele was essentially an employee of the Clinton campaign.
The most effective way for Somma to push back at what appears to be scapegoating of him by FBIHQ officials would be to give a full account of his interactions with FBIHQ. I look forward to that.
UPDATE: First a brief note. The NYT has been getting credit for revealing Case Agent 1 as Steve Somma, but in fact Fool Nelson did that back in December--as
I noted then
.
Now, based on MonsieurAmerica's comment below, I can first link to a discussion re Comey and the initiation of action against Carter Page--without going through a bunch of searching. Here's the relevant excerpt from the Horowitz Dossier. As MonsieurAmerica says--the Big Fish were circling Page back in March/April, 2016, but now it's Comey who may be cornered: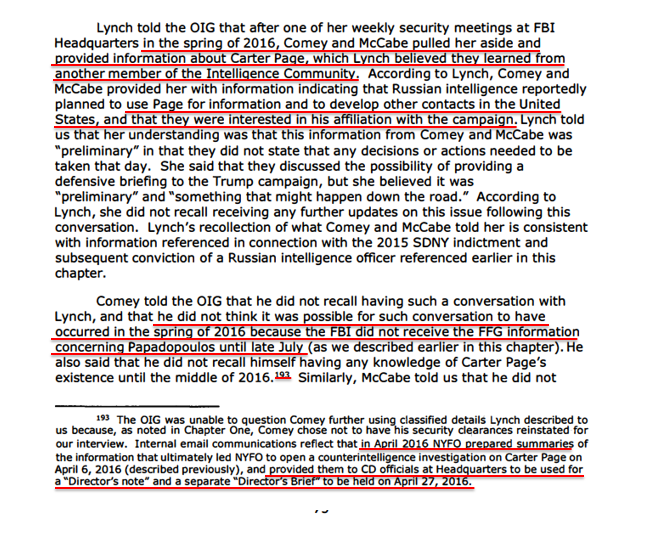 Also, Monsieur America has a very informative article on the entire matter:
PIN-POINTING THE MOMENT CARTER PAGE BECAME A CROSSFIRE TARGET
.
What's remarkable, is with all that investigative and prosecutorial firepower leveled at Page, they guy eluded them. He accused the FBI and SDNY of suborning perjury, he was interviewed four times, they had four FISAs on him, and they couldn't even pin a bogus false statement rap on him. Impressive!