Last night DoJ released disgraced former DAG Rod Rosenstein's second "scope of the witchhunt" memo, which outlines whom Team Mueller could investigate and under what pretext. There were no real surprises in the revelations, except perhaps that Rosenstein actually cited the Logan Act with regard to Michael Flynn. The one exception to the "no surprises" statement is that there was a fifth subject whose identity was redacted and the allegations against whom were also redacted.
Naturally everyone wants to know who that fifth (redacted) subject is. There is no lack of plausible candidates, except that--with regard to most of them--it's difficult to understand why everything should be redacted: Roger Stone? Michael Cohen? Rick Gates? Etc.?
For that reason a number of internet commenters have been suggesting that the fifth (redacted) subject is, in fact, President Trump, and the pretext for that investigation would be "obstruction" for having fired disgraced former FBI Director James Comey. Last night I included a tweet by Undercover Huber to that effect in
Rod Rosenstein's Second "Scope Memo" For Team Mueller
.
This morning Techno Fog presented a fairly concise argument that seeks to make that case--that President Trump was explicitly targeted by Rosenstein and Team Mueller: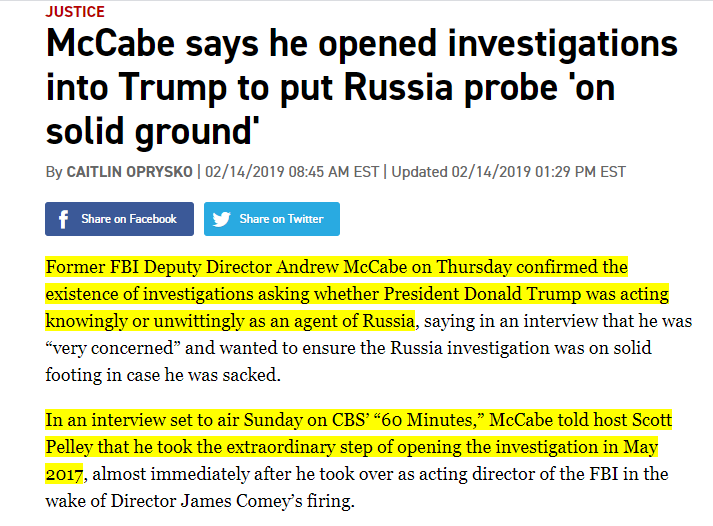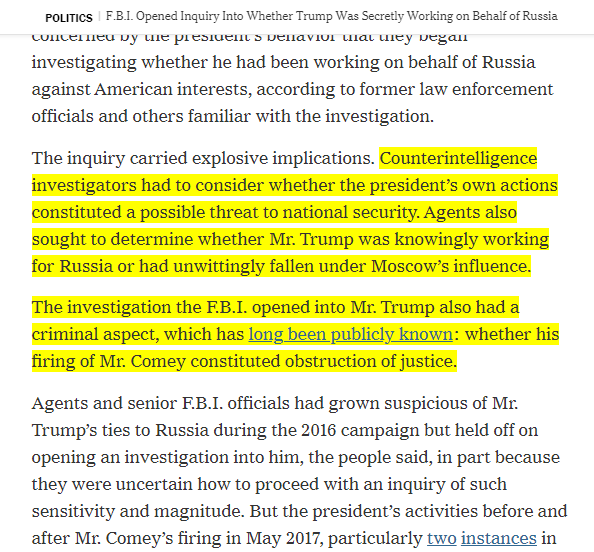 Commenter Mike Sylwester wrote this morning that he was inclined to accept the identification of the fifth subject as President Trump.
I responded
, stressing the importance of this identification, if true:
If true that would be important because, as Undercover Huber points out (above) the only know allegations against Trump himself were "obstruction" allegations based on the firing of Comey. You wind up with double barreled idiocy or legal/investigative fraud.
1. The allegation would amount to claiming that POTUS can't fire Director, FBI--absurd.
2. But it would rely on the legitimacy of the Russia Hoax, because the point of obstructing Comey would be to obstruct Crossfire Hurricane--and the basis for that had been totally debunked 8 mos. earlier.
Bottom line: if the fifth part is indeed aimed at Trump it's definitely not done in good faith.
Which leaves us with the question, Why, 8 months after all this was thoroughly debunked, did Rosenstein sic Team Mueller on the president? The immediate object is clear enough: to effect the removal of President Trump from office. As regards the other four named subjects,
Mike Sylwester
summarizes succinctly:
Rosenstein was just giving Mueller fishing licenses to fish for any stuff that Mueller might use to threaten prosecution and to offer deals to Manafort, Papadopoulos or Flynn in exchange for ratting on Trump about anything.
That much seems clear.
The still remaining question, then, is: Why include President as a subject? As I indicated above, the actual theory of the supposed "obstruction" case is constitutionally threadbare, resting on the absurd notion that the Chief Executive of the United States--in fact, the Executive Branch personified--cannot fire subordinate officers.
To attempt to argue that, in the special case of a president who is suspected of being an agent controlled by Russia and operating against the United States, really doesn't cure that fundamental problem. A
Special Counsel
investigation must rest on the proposition that a "criminal investigation of a person or matter is warranted." The McCabe investigation rests on what could best be termed: Wild Ass Allegations. In fact, as stated above, allegations that had been debunked 8 months previously.
I have no unassailable explanation for why Trump would have been included. My guess is this. This may have been part of a ploy to induce Trump to submit to an interview by Team Mueller, in the course of which Team Mueller could claim to have discovered false statements. If Trump were under oath that would constitute perjury, but regardless there would be 18 US 1001 false statements and obstruction charges. Trump could be forced out. The ploy involved here would be to argue to Trump that he needed to submit to such an interview to "clear" himself. That ploy couldn't plausibly be made if the only subjects were those "four Americans" who were the subject of Crossfire Hurricane. But for the advice of competent attorneys, I suspect Trump would have been tempted to do so.