The value of commenters to this blog was on display earlier today on the
Minimization, Tech Cuts, Unmasking--A Guide
post. First, commenter EZ pushed me a bit on my explanations, leading to some valuable exchanges. Then commenter Brad Crawford pointed me to
Stephen McIntyre's discussion of my earlier post
(a discussion that Brad had spurred). McIntyre dug up a quote from disgraced FBI Deputy Director Andrew McCabe's book (no, I don't link that stuff) that provides light on this whole business of minimization under FISA but especially sheds considerable light on how it worked in the Flynn case.
Bear with me and we'll see how this works. First, here's passage from McCabe's book that explains how he learned about Flynn's conversation with Russian ambassador Kislyak. We assume that anything McCabe writes will be self serving, but most of this has the ring of truth. As so often, the most interesting parts are what are left out, but for our purposes this works: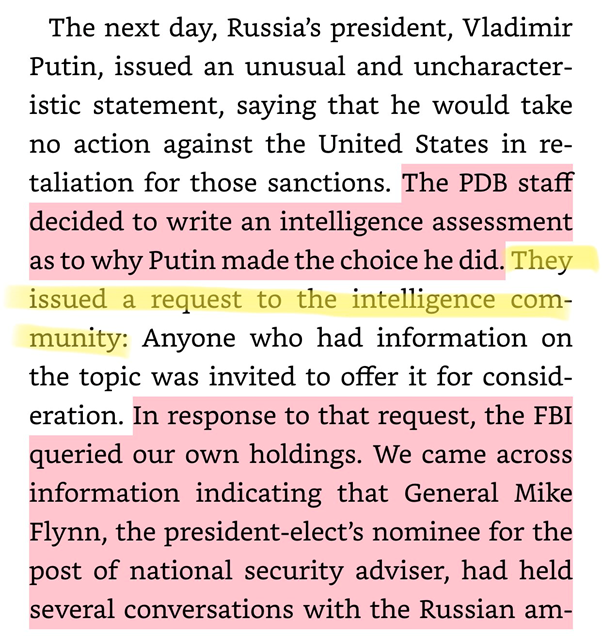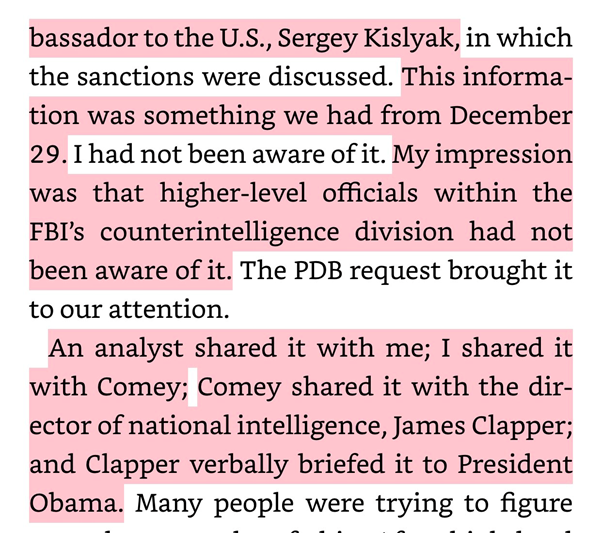 Now let's unpack that. For starters, PDB means
President's Daily Brief
:

The President's Daily Brief (PDB), ..., is a top-secret document produced and given each morning to the president of the United States, and is also distributed to a small number of top-level US officials who are approved by the president, and includes highly classified intelligence analysis, information about covert operations of the US Central Intelligence Agency (CIA) and reports from the most sensitive US sources or those shared by allied intelligence agencies.
How many is "a small number of top-level US officials"? According to the WaPo:
By 2013, Obama's PDB was making its way to more than 30 recipients, including the president's top strategic communications aide and speechwriter, and deputy secretaries of national security departments.
The context for the passage in McCabe's book is the Obama decision to meddle in Trump's ability to prepare to conduct foreign policy. Obama expelled 35 Russian diplomats, supposedly for "meddling". Putin's respons came on December 30, 2016. Much to the consternation of the Obama administration, which had hoped to embroil Trump in controversy even before the inauguration, Putin announced that he would not retaliate. (You can read about it
here
.)
That's why the PDB staff tasked US intel agencies to explain why--why had the Obama admin's clever disruption plan gone agley (as the poet Burns would say)? The FBI was on the list of intel agencies thus tasked.
The FBI's analysts got to work on the question and came up with the answer The Trump Transition Team's incoming NSA, Michael Flynn, had been in touch with Ambassador Kislyak on the issue and the Russians had agreed to let it slide. How did the FBI learn about this? From their normal FISA coverage of the Russians. That's exactly why both Comey and McCabe, in their House testimony, freely spoke of "tech cuts" with regard to the Flynn/Kislyak conversations.
But here's the interesting part. Did some FBI analyst, assigned to monitor the FISA on the Russian embassy, upon listening to the conversation then immediately run up to the 7th floor of FBIHQ shouting: 'OMG! Flynn's been talking to the Russians!' Apparently not. And, again, as McCabe and Sally Yates explained--or tried to explain--in their testimony: Minimization with regard to Flynn simply wasn't an issue.
Now, McCabe claims that the upper level counterintelligence officials at the FBI hadn't been aware of Flynn's conversations with Kislyak. That might well have been the case. After all, it's not as if an Ass't Director of the FBI, like Bill Priestap for example, would be monitoring communications on a FISA. No, they get the word from much further down the organizational ladder, from people who are trained for that job. And so it seems clear that
the people who are trained and get paid to assess the importance of what they hear on a FISA had initially decided that Flynn's conversations were of no particular importance to the FBI
. Or to the Obama administration, for that matter.
Somebody at the FBI apparently understood that what Flynn was doing was business as usual for a Presidential transition.
What's left unsaid, of course, is: What considerations led McCabe and Comey to take a contrary view, to take that information to Clapper, and Clapper to take it to the White House? At what point was it decided that this information could be used to force Michael Flynn out of the fledgling Trump administration? It appears that that idea was developed almost immediately, because we're told that Clapper's General Counsel,
Robert Litt
, came up with the idea of trying to use the Logan Act. Moreover, it seems that by the time Comey turned up for the January 5 Oval Office meeting he already knew about the plan to use the Logan Act.
Thus the transition from 'No Bid Deal' to 'Take The Kill Shot' was a very quick one.
UPDATE: Larry Johnson has written a valuable article regarding all those unmasking requests re Michael Flynn--the REAL unmasking requests, unlike the Flynn/Kislyak for which there was no unmasking request (because there had never been any masking). Johnson's main point is that the reporting that contained Flynn's name almost certainly arose from Intel Community taskings--what are known in the Intel world as "collection requirements." It makes for a very good read.
You'll see that at the end Johnson posits some notion that it was the CIA that captured the Flynn conversation with Kislyak. What he doesn't address is--If that was the case, then why was it disgraced former FBI Director James Comey who took a "tech cut" to James Clapper? Why wasn't it John Brennan? The obvious answer is: Because it was the FBI that collected that particular intelligence. The location for collecting that conversation was Washington, DC, USA--the FBI's exclusive turf. There's no need at all to posit the CIA's Special Collection Service, operating overseas.
Nevertheless, I highly recommend the article:
The Media and Pundits Are Lying–The Flynn Unmasking Was Uncommon and Unusual
.