The three judges who are handling Powell's Petition for a Writ of Mandamus are:
Neomi Rao
- Trump; notable:

In an October 11, 2019, opinion of a three-judge panel of the United States Court of Appeals for the District of Columbia Circuit, Rao was the dissent in a 2-1 ruling to affirm a district court ruling supporting a congressional subpoena for President Trump's records from accounting firm Mazars USA LLP. Her opinion stated, "allegations of illegal conduct against the president cannot be investigated by Congress except through impeachment."
Karen LeCraft Henderson
-
George H. W. Bush; notable:
In February 2020, Henderson joined the opinion of Circuit Judge Thomas B. Griffith when the majority held that the United States House Committee on the Judiciary could not enforce a subpoena upon President Trump's former White House Counsel, Don McGahn.
Robert L. Wilkins
- Obama
Sullivan has ten days to respond to Powell's petition. Sidney Powell
comments
: "The short time-table recognizes the seriousness of the issue to the proper administration of justice." Also, note that the court specifically invites a response from the government.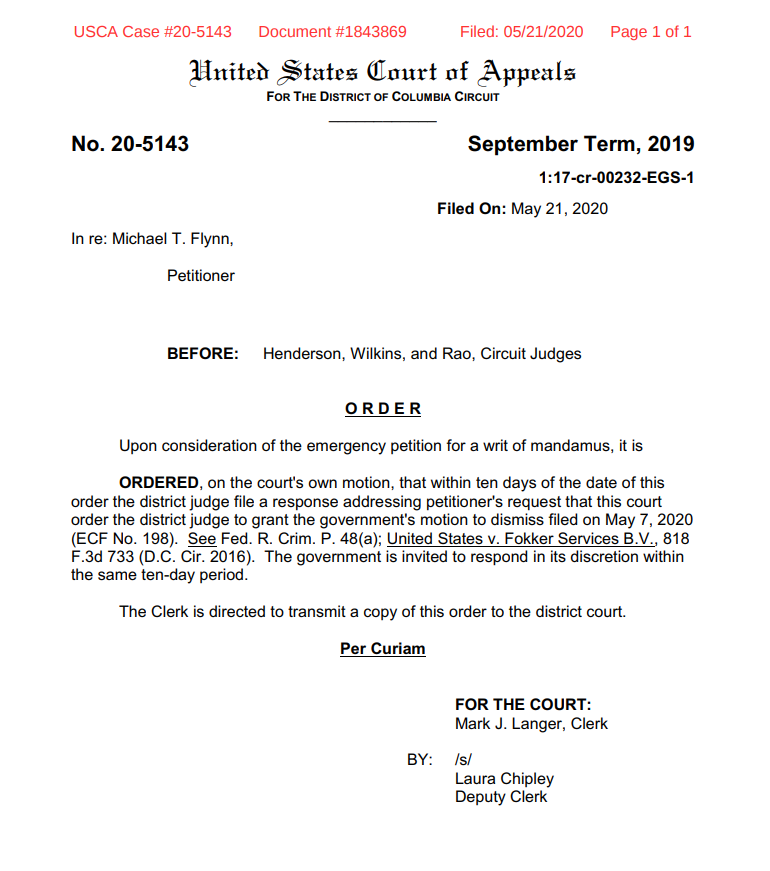 In more than 30 years of practicing law, almost exclusively in federal courts, I have never seen a federal appeals court direct a district court judge to personally respond to a litigant's motion, petition, or appeal.
Flynn was fortunate to draw the panel he did. It consists of Karen LeCraft Henderson, a Bush 41 appointee, Naomi Rao, a Trump appointee, and Robert Wilkins, who was appointed by Obama.
That panel's order is "per curiam." There is no indication that Judge Wilkins disagreed with it.
Hans Mahncke
:
Hans Mahncke
@HansMahncke
The D.C. Circuit just asked Sullivan to answer this exact question, i.e. on what basis does he claim to have discretion not to dismiss? He could have asked the parties to write briefs. Now he's been ordered to do it himself.
Quote Tweet

Hans Mahncke
@HansMahncke
· May 13
The only legitimate question that Sullivan can ask is whether he has any discretion not to dismiss? That's it. If he thinks he might have some discretion then he should either figure it out himself or ask the lawyers to write briefs. Instead, he's allowing the mob to smear Flynn.
5:51 PM · May 21, 2020
If you can't get enough of this:
https://www.pscp.tv/w/1gqxvEQAMmnJB
UPDATE 2: Here's the unrolled thread by John M. Reeves that commenter EZ pointed to. Very thorough explanation:
https://threadreaderapp.com/thread/1263588369918906373.html