This post is just a placeholder for now. As with Van Grack dropping out, no surprise. But it doesn't mean that the revelations will stop, or that Powell will stop. She wants exoneration but also accountability.
DOJ drops case against Michael Flynn, in wake of internal memo release
OK, here's the nub of
the DoJ motion to dismiss the case against Flynn
(page 2 of 20--I'm still reading). The motion was signed by the USA for DC, Timothy Shea:
After a considered review of all the facts and circumstances of this case, including newly discovered and disclosed information appended to the defendant's supplemental pleadings, ECF Nos. 181, 188-190, the Government has concluded that the interview of Mr. Flynn was untethered to, and unjustified by, the FBI's counterintelligence investigation into Mr. Flynn—a no longer justifiably predicated investigation that the FBI had, in the Bureau's own words, prepared to close because it had yielded an "absence of any derogatory information." Ex. 1 at 4,FBI FD-1057 "Closing Communication" Jan. 4, 2017 (emphases added). The Government is not persuaded that the January 24, 2017 interview was conducted with a legitimate investigative basis and therefore does not believe Mr. Flynn's statements were material even if untrue. Moreover, we not believe that the Government can prove either the relevant false statements or their materiality beyond a reasonable doubt.
I'll admit at this point that I'm a bit underwhelmed. I understand that Durham is probably investigating the Flynn prosecution in extreme depth, so the statement is cautious. My position remains that there never,
at any point in the timeline
, was predication for investigating Flynn. Hopefully Durham will expose all that. The paragraph above sidesteps the issue of the original predication for the underlying CI investigation by saying that the interview was "untethered" from that investigation--thus avoiding the need to pass judgment on what was clearly an illegal investigation to begin with. The government gives a nod to the WFO closing memo by saying that the WFO case was "no longer adequately predicated." The real question--which I adamantly answer in the negative--is whether it was
ever
adequately predicated. Again, I hope judgment on that issue will come later.
Another consideration. The government's motion doesn't address what we know from the revealed FBI documents--the real basis for interviewing Flynn and the pretextual nature of that interview. Stay tuned for more. If I were Flynn and Powell, I wouldn't be totally satisfied and, having got this far, I'd say so LOUD AND CLEAR.
OK--I'll just drop some important excerpts, with references removed for readability. Again, there's a disappointment in this for me. The way it reads it's as if Sally Yates wasn't on board with trying to screw Flynn. But the fact is, her idea of going to the White House and expressing concern about Flynn was precisely an attempt to get Flynn in trouble
for doing his job
. Further, the motion makes it sound as if the Logan Act nonsense was stricly an FBI fantasy, but we know that Yates and Mary McCord were behind it too. They just disagreed with Comey as to how to use it.
OTOH, the motion is totally clear that Flynn did nothing wrong and behaved entirely appropriately. It also clearly states that there was no ground for any investigation, including NOT the Logan Act. The failure to predicate this investigative activity--the interview--is something that I discussed at
Victoria Toensing On Predication--And Me On The Logan Act
:
The calls were 14 entirely appropriate on their face.
...
Nor was anything said on the calls themselves to indicate an inappropriate relationship between Mr. Flynn and a foreign power.
...
They provided no factual basis for positing that Mr.Flynn had violated FARA. Nor did the calls remotely transform Mr. Flynn into a "viable candidate as part of the larger ... umbrella case" into Russian interference in the 2016 presidential election.
...
With no dispute as to what was in fact said, there was no factual basis for the predication of a new counterintelligence investigation. Nor was there a 15 justification or need to interview Mr. Flynn as to his own personal recollections of what had been said. Whatever gaps in his memory Mr. Flynn might or might not reveal upon an interview regurgitating the content of those calls would not have implicated legitimate counterintelligence interests or somehow exposed Mr. Flynn as beholden to Russia.
Notably, at this time FBI did not open a criminal investigation based on Mr. Flynn's calls with Mr. Kislyak predicated on the Logan Act. The FBI never attempted to open a new investigation of Mr. Flynn on these grounds. Mr. Flynn's communications with the Russian ambassador implicated no crime. This is apparent from the FBI's rush to revive its old investigation rather than open and justify a new one, as well as its ongoing inability to espouse a consistent justification for its probe in conversations with DOJ leadership, ... In fact, Deputy Attorney General Yates thought that the FBI leadership "morphed" between describing the investigation into Mr. Flynn as a "counterintelligence" or a "criminal" investigation.
In short, Mr. Flynn's calls with the Russian ambassador—the only new information to arise since the FBI's decision to close out his investigation—did not constitute an articulable factual basis to open any counterintelligence investigation or criminal investigation.
UPDATE 1: Check this out! Yates says she learned about Flynn having a conversation with Kislyak FROM OBAMA! YOW! That's big.
Per Byron York
: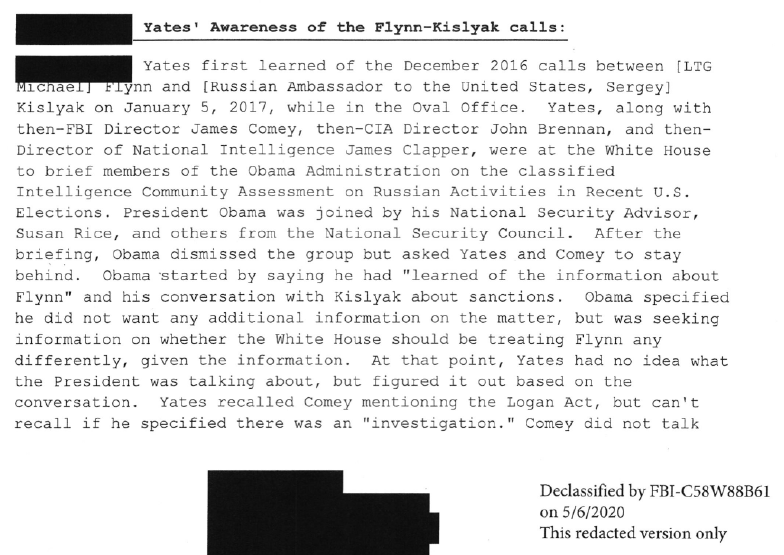 So Lisa Page knew what she was talking about: Obama really did want to know everything. And K. T. McFarland was right: It was approved/known about at "the highest levels."
UPDATE 2: Remember how the FBI's WFO opened a Full Counterintelligence against Flynn because he "traveled to Russia?"
Wait until the FBI find out that Bill Clinton took $500,000 for a speech in Moscow. They'll get Susan Rice's "book" and throw it at him

— Undercover Huber (@JohnWHuber) May 7, 2020
How do you explain this stuff to an ambulance chaser lawyer?
— Undercover Huber (@JohnWHuber) May 7, 2020
Actually, Will Chamberlain does a pretty good job explaining this.