When those sources told Sean Davis yesterday that Strzok notes that DoJ had just turned over to the Flynn team would be "explosive," they weren't kidding. Remember how I've stressed how important the Flynn case is for getting to the heart of the Russia Hoax. I thought that meant Team Mueller--and it probably still does. But now we're learning that Strzok's notes directly implicate Obama and Biden. Do you think Michael Flynn will have something to say about that--that Trump will, too--between now and the election? Me too.
We'll see more later, but here's the first take available. It appears that Strzok must have been briefed regarding Comey's conversation with Obama--and that
Biden was also present
at the discussion on the Flynn case:

Techno Fog
@Techno_Fog
Peter Strzok notes from 1/4/17 released in Flynn case:
Discussion among Obama, Comey, Yates, Biden, and Susan Rice.
Biden: "Logan Act"
Obama: "Have the right people on" Flynn case.
Comey: The Flynn/Kislyak calls "appear legit."

9:49 AM · Jun 24, 2020
From Sidney Powell's summary: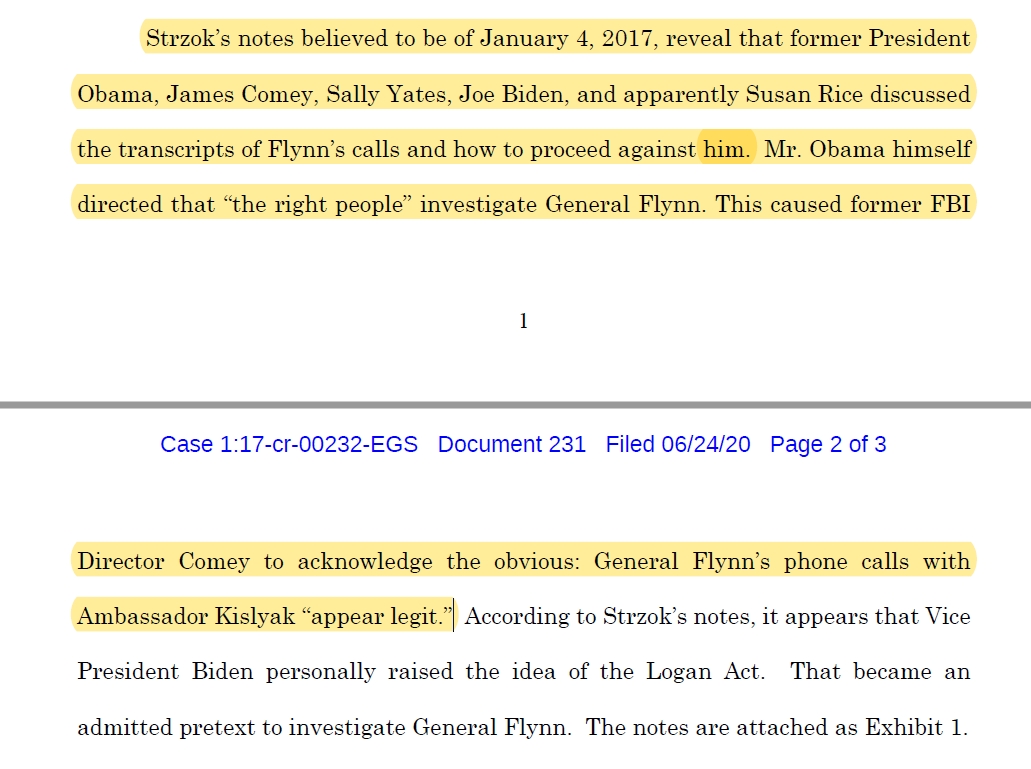 And a copy of the notes: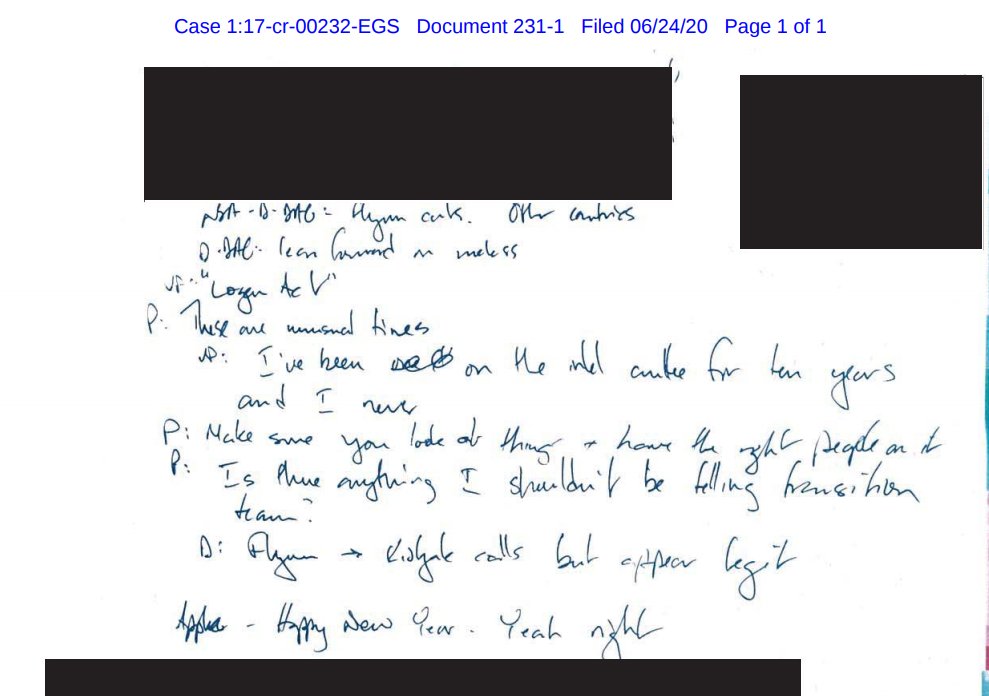 The immediate significance should be apparent: Comey told Obama (and Biden) that the Flynn - Kislyak calls "appear legit." Obama, however, wants Flynn investigated and wants Comey to be sure to have "the right people" on the case. Biden--apparently already suffering from senile dementia--chimes in: "Logan Act."
So Comey says, There's no case, there's no predication for an investigation. And Obama--the former "law professor"--appears to urge Comey to "investigate" Flynn anyway, and to handpick investigators who will be willing to go along with this illegal "investigation." That's huge! (I seem to be using that word a lot, today.)
And Dana Boente--Chris Wray's top legal counsel--was hiding this document? Very not good.
As Mr. Bean would say: Brace yourself!
UPDATE: Techno Fog states that the notes date from 1/4/17, but I don't see how that could be the case. Strzok's notes clearly appear to be notes taken at a briefing provided to top FBI officials by disgraced former FBI Director James Comey. The clearly appear to reflect Comey's recollections of
the Oval Office meeting that took place on 1/5/17
. In other words, on 1/4/17 Strzok got word from Comey that there would be a discussion of the Flynn case with Obama on 1/5/17--so Strzok immediately scrambled and told Pientka to keep the Flynn case open. Strzok's reason, as texted to Pientka, was that the "7th floor" was involved, i.e., Comey. But the real reason was that Obama was involved.
Margot Cleveland offers another shrewd insight. Susan Rice wrote her famous email to self, in which she memorialized the 1/5/17 Oval Office meeting, only after two weeks had passed: on 1/20/17, Inauguration day. Rice wrote the email at the direction of Neil Eggleston, Obama's White House Counsel. In that email Rice wrote that Obama instructed everyone to conduct the Flynn investigation "by the book."
But that, Cleveland notes, raises a very interesting question. What part of doing everything "by the book" is it for the POTUS--having been informed by the FBI Director that the matter under advisement "appears legit"--to nevertheless instruct the FBI Director:

Make sure you look at things, have the right people on it.
What "book" was Obama reading from when he gave those instructions to Comey? Further, as Cleveland points out, why did Strzok not include that admonition about the "book" in his notes? It's possible, of course, that Comey forgot to mention the admonition, but could it be that
the admonition was never in fact given?
That it was
invented after the fact by Susan Rice at Neil Eggleston's instructions?
Recall: Sally Yates, in her 302 on this meeting, did not mention any such admonition, either.
All of this suggests a disturbing mentality at Obama's White House, a mentality that was casting about wildly for some way--whether via Flynn and the nonsensical Logan Act claim, or Comey's attempted blackmail of Trump the next day with the "dossier" slander--to prevent Trump from being inaugurated as President of the United States.