From
Fox News
:
The Washington archbishop is facing backlash from Catholics for his scathing condemnation of President Trump's visit to the Saint John Paul II National Shrine, coinciding with an international religious liberty executive order Tuesday.
Wilton Gregory opposed the long-planned visit by Trump and first lady Melania Trump, who is Catholic.
"I find it baffling and reprehensible that any Catholic facility would allow itself to be so egregiously misused and manipulated in a fashion that violates our religious principles, which call us to defend the rights of all people even those with whom we might disagree," the archbishop said in a statement.
"Saint Pope John Paul II was an ardent defender of the rights and dignity of human beings. His legacy bears vivid witness to that truth," Gregory added. "He certainly would not condone the use of tear gas and other deterrents to silence, scatter or intimidate them for a photo opportunity in front of a place of worship and peace."
I'm not sure how Gregory knows what John Paul II would have condoned in the circumstances, nor do I necessarily consider such hypotheticals to be determinative of anything.
The shrine posted this statement
:

6/2/2020 – Many are aware of a presidential visit to the Saint John Paul II National Shrine today. Here is a statement from the Shrine: "The White House originally scheduled this as an event for the president to sign an executive order on international religious freedom. This was fitting given Saint John Paul II was a tireless advocate of religious liberty throughout his pontificate. International religious freedom receives widespread bipartisan support, including unanimous passage of legislation in defense of persecuted Christians and religious minorities around the world. The Shrine welcomes all people to come and pray and learn about the legacy of Saint John Paul II."
A number of well known Catholic intellectuals and pundits suggested that a certain measure of hypocrisy and, yes, partisan politics may have been involved in Gregory's harsh condemnation of Trump:
Edward N. Peters, a Roman Catholic canonist and professor at Sacred Heart Major Seminary of the Archdiocese of Detroit, tweeted that Gregory's condemnation is "devoid of any sense of Christian sentiment."
Dwight Longenecker, a Catholic priest, shared an image of Gregory with House Speaker Nancy Pelosi with the caption: "I find it baffling and reprehensible that any Catholic facility would allow itself to be so egregiously misused and manipulated."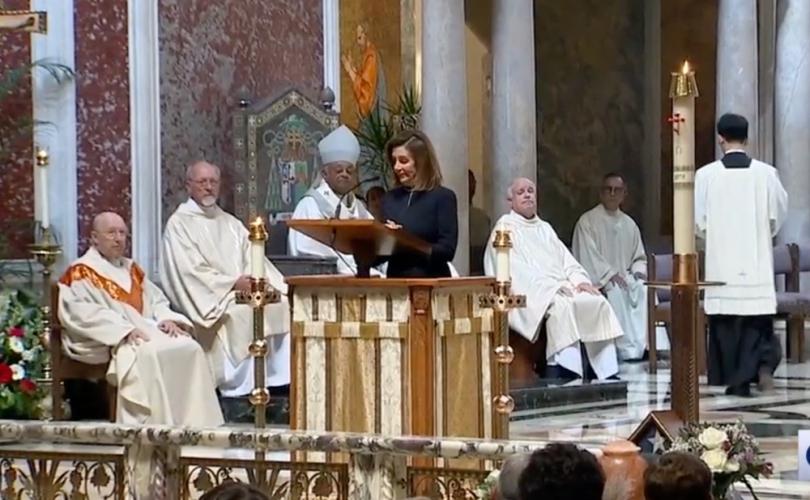 Pelosi, a nominal Catholic, has long opposed Catholic moral teaching, yet presents herself to receive the Eucharist when it suits her for the purpose of partisan posturing. Gregory is happy enough to participate in that charade. Trump, by contrast, has (whatever Catholics might think of some aspects of his personal life) strongly supported notable principles of Catholic morality--including not only the need to protect the full spectrum of human life but also principles that are fundamental to our constitutional order. I think especially of the idea of rule of law but also those principles enunciated in the Declaration of Independence: "We hold these truths to be self evident ..."
NOTE: I've reverted to the original Blogger since the new version lacks many common features--such as the ability to embed images and videos.