The
memorandum opinion
of Judge Sullivan is 99 pages long, so obviously I can't have read it. We'll soon see what others think.
What I noticed first was that Sullivan takes a shot at Flynn's attorney, Sidney Powell, suggesting that she has engaged in "professional misconduct" for plagiarization, by "merely provid[ing] a hyperlink" to a brief she quotes rather than a direct citation (p. 17):
A. Ethical Concerns with Mr. Flynn's Brief
The Court notes that Mr. Flynn's brief in support of his first Brady motion lifted verbatim portions from a source without attribution. Compare Def.'s Br., ECF No. 109 at 11-12,15-16, 15 n.21, with Brief of the New York Council of Defense Lawyers et al. as Amici Curiae Supporting Petitioner, Brown v.United States, 566 U.S. 970 (2012) (No. 11-783), 2012 WL 242906at *5-6, *8, *12-13, *12 n.6. In a footnote, Mr. Flynn's brief merely provides a hyperlink to the "excellent briefing by Amicus [sic] in support of the Petition for Writ of Certiorari in Brown v. United States." Def.'s Br., ECF No. 109 at 16 n.22.
The District of Columbia Rules of Professional Conduct apply to the proceedings in this Court. See LCrR 57.26. Rule8.4(c) provides that "[i]t is professional misconduct for a lawyer to . . . [e]ngage in conduct involving dishonesty, fraud,deceit, or misrepresentation." D.C. Rules of Prof'l Conduct R.8.4(c); see In re Ayeni, 822 A.2d 420, 421 (D.C. 2003) (per curiam) (lawyer's plagiarized brief violated Rule 8.4(c)). "[C]itation to authority is absolutely required when language is borrowed." United States v. Bowen, 194 F. App'x 393, 402 n.3(6th Cir. 2006); accord LCrR 47(a). "The [C]ourt expects counsel to fully comply with this [C]ourt's rules and submit work product befitting of pleadings [and briefs] in a federal court." Kilburn v. Republic of Iran, 441 F. Supp. 2d 74, 77 n.2 (D.D.C.2006).
I dunno. Sullivan's language strikes me as a bit over the top, a bit of a cheap shot, in that Powell was hiding nothing (any more than Flynn hid anything from the FBI)--what she did doesn't appear to be "dishonesty, fraud, deceit, or misrepresentation", even if it wasn't in full compliance with the rules.
I have to admit that I'm unable to follow the Judge's reasoning as to the merits. Let me break up the paragraphs here into major points, beginning on p. 49:
iii. Mr. Flynn's False Statements Were Material
Mr. Flynn argues that his false statements to the FBI were not "material" for two reasons.
First, Mr. Flynn contends that his conversations with the Russian Ambassador were unrelated to the FBI's investigation into Russia's efforts to interfere in the 2016 presidential election because the interviewing FBI agents did not ask him a single question about election interference or any coordination between Russia and the Trump campaign.
Next, Mr. Flynn argues that the FBI had recordings and transcripts of his conversations with the Russian Ambassador, arguing that the FBI "knew exactly what was said" and "nothing impeded [the FBI's] purported investigation."
The government responds that Mr. Flynn's false statements were "absolutely material" because his false statements "went to the heart" of the FBI's "counterintelligence investigation into whether individuals associated with the campaign of then-candidate Donald J. Trump were coordinating with the Russian government in its activities to interfere with the 2016 presidential election."
The judge cites nothing about how chatting Flynn up--that's exactly how the FBI intended the setup interview to appear--about his legitimate official business "went to the heart" of anything. Here's how he reasons:
Mr. Flynn's first argument--[his conversations with the Russian Ambassador were unrelated to the FBI's investigation into Russia's efforts to interfere in the 2016 presidential election]--fails to appreciate the FBI's strategic decisions and investigative techniques. Cf. United States v. VanMeter, (FBI uses "a variety of conventional investigation techniques" to "unearth [] numerous leads").
That may be, but surely an explanation of what technique was involved and how it related to the Russia investigation re the 2016 election would be in order? Am I missing something here? Is Sullivan really suggesting that the FBI was warranted in randomly investigating and testing for accuracy and/or truthfulness anyone in the Trump administration who happened to come in contact with a Russian diplomat?
Sullivan goes on to state that Flynn and Powell fundamentally misunderstand the law of materiality. I'm not so sure they do misunderstand that:
Mr. Flynn's second argument is foreclosed by D.C. Circuit precedent. See United States v. Moore, 612 F.3d 698, 701(D.C. Cir. 2010) (holding that "a statement is material if it has a natural tendency to influence, or is capable of influencing, either a discrete decision or any other function of the agency to which it was addressed").
Once again, it seems to me that some discussion of how Flynn's account of his official conversations with the Russian ambassador in this instance had a natural tendency to influence the FBI in any of its functions is called for. Yet there is none. Restating the law through quotes from other cases hardly seems dispositive for this case with its unique set of facts. Instead, Sullivan rather fliply says that 18 USC 1001 doesn't require him to "function as [an] amateur sleuth[]".
I certainly hope this gets appealed. As I've argued in the past, there appears to me to be a fundamental issue of due process here, with regard to the whole question of predication. Everything we've seen indicates that the FBI had no basis whatsoever for investigating Flynn in the first place--and therefore, as I've argued, the interviewing agents can hardly be said to be acting in an official capacity. To that extent I would regard what they did as a fraud on the government. I'd very much like to see a court rule on that whole issue--whether the FBI can test the truthfulness of any person without a legitimately predicated investigation. This interpretation of due process seems to me to be manifestly unjust and ripe for review.
No doubt there will be more analysis soon.
ADDENDUM: I'll go on the record here, FWIW, that I continue to believe that Flynn will eventually be exonerated.
I also note that sundance continues to take moronic shots at AG Barr,
By withholding the classification material (particularly the Susan Rice memo to file) Attorney General William Barr has built the gallows upon which Flynn will hang.
IOW, since Barr hasn't declassified everything that sundance, in his wisdom, thinks Barr should declassify, Barr is complicit in Sullivan's ruling.
UPDATE 1: In the past I have expressed a belief that AG Barr is not able to simply dismiss a case that is being prosecuted by a local USA office. That appears not to be a fully accurate view although, as you'll see, it's not an easy thing or a step that any AG would lightly take. I've learned that in a letter dated June 6, 2019, before she was actually counsel for Michael Flynn, Sidney Powell suggested to Barr that he take steps to have the case dismissed. A full copy of the long letter can be found as
Attachment 1 here
, beginning at page 31 of the full pdf.
In her letter, Powell cites the example of the DoJ moving to dismiss the Ted Stevens prosecution. That, however happened after Judge Sullivan had on his own identified serious misconduct and the original prosecutors were under investigation. My understanding is that to dismiss a prosecution the government must make a motion and provide a reason, and the decision will remain up to the judge. For the AG to take that step in a local prosecution would require, I believe, a specific finding that would force the replacement of the prosecutor(s). As you'll see from the excerpt I provide below, Powell's first request is that the prosecutors all be replaced.
All this comes up against the question of what's going on in the overall Barr/Durham investigation--would making such a move prejudice the investigation in any way? None of this is easy. I believe that specific misconduct could be identified, but that for reasons that he feels unable to make public at this point, Barr is unwilling to take that step. Part of the reason for that may stem from Powell's second request--that a determination be made as to the basis for the investigation of Flynn. That, of course is what I keep going on about. Unfortunately, to do so could tip the hand of the Barr/Durham investigation. We'll see. In the meantime, here are the specific requests Powell made of Barr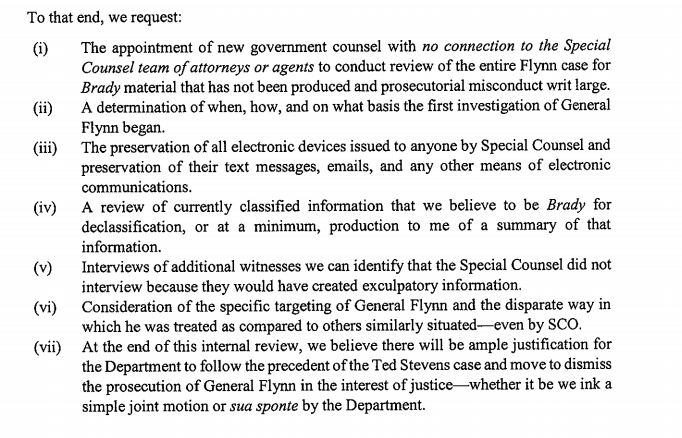 UPDATE 2: Margot's right, of course: pleading guilty twice under oath and examined about voluntariness by the court doesn't help. But check this out--the plagiarism charge really was a cheap shot:
A few quick thoughts: Sullivan's "plagiarism" charge was of the same character as his "treason" comment. Sullivan ADMITS she cited the source for her argument, and then supports his ethical analysis with a case that involved this situation:

pic.twitter.com/MI8XXl7fgK

— Margot Cleveland (@ProfMJCleveland) December 16, 2019
And the briefing he suggests Powell plagiarized was an amicus filed in HER case. Wanna bet she made similar arguments orally, in her lower briefing, etc? But frankly it doesn't matter: It's not plagiarism if you cite the source!

pic.twitter.com/01HlmGrEki

— Margot Cleveland (@ProfMJCleveland) December 16, 2019