My impression is that all the talk in the mainstream news is, like: Ya gotta get vaxxed! The Variants are gonna getcha! Be very afraid, even after yer vaxxed!
And yet ...
As Zerohedge discusses today, New Covid Cases Are Crashing. What's going on?
Well, for starters this phenomenon has nothing to do with vaxxing:
Dr. Wafaa El-Sadr, professor of epidemiology and medicine at Columbia University's Mailman School of Public Health, said

the falling case numbers can't be attributed to the COVID-19 vaccine, because not even a tenth of the population has been vaccinated, according to the CDC.
And it has nothing to do with lockdowns--check out never-locked-down Sweden on this graph: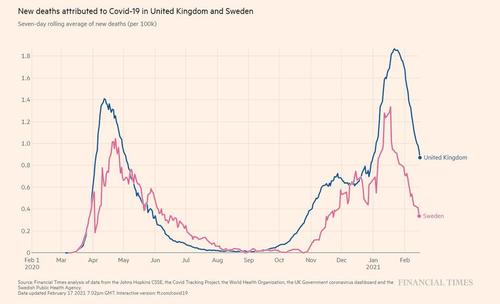 So what is it, Zerohedge asks? Here's their answer: It's the change in the testing protocol. We're no longer following the casedemic protocol, designed to massively inflate cases and deaths. To illustrate, Zerohedge first notes the date of the change--January 13--and then presents this graph: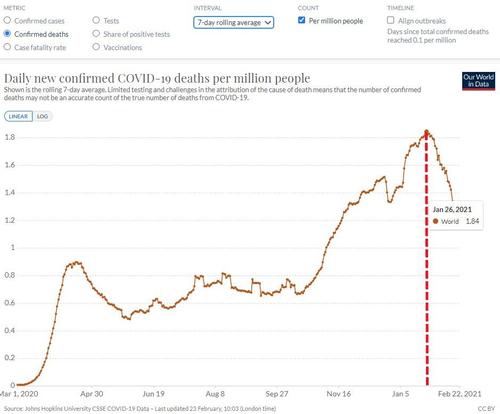 The logical conclusion?
Essentially, in two memos the WHO ensured future testing would be less likely to produce false positives and made it much harder to be labelled an "asymptomatic case".

In short, logic would suggest we're not in fact seeing a "decline in Covid cases" or a "decrease in Covid deaths" at all.

What we're seeing is a decline in perfectly healthy people being labelled "covid cases" based on a false positive from an unreliable testing process. And we're seeing fewer people dying of pneumonia, cancer or other disease have "Covid19" added to their death certificate based on testing criteria designed to inflate the pandemic.
For a cautious, mainstreamish, reaction to these numbers you can read the NYPost editorial today: America is getting closer to normalcy — it's absurd to paint it any other way. On the other hand, for a more biting analysis of the way the numbers have been cooked for a long time now, Just The News has an article going back to January 1, 2021, that discusses the other Covid related phenomenon that's not getting much hard analysis--Where's the flu? As it happens, that whole question fits together rather closely with the 'suddenly' collapsing Covid numbers:
The missing flu riddle: 'Influenza has been renamed COVID,' maverick epidemiologist says
Actually, the only maverick thing about this epidemiologist--Knut Wittkowski--is that he isn't toeing the official line. After all, I don't think maverick scientists are unlikely to become head of biostatistics, epidemiology and research design at Rockefeller University. You can follow the link for the non-maverick explanations--oh, the flu must have been ousted by Covid, oh it must've been the social distancing, or the masks. But, to paraphrase John Cleese--don't mention the testing! What I'll do is provide Wittkowski's position, and you'll be able to figure out pretty easily which other positions he's criticizing. Two things I was struck by, which confirmed what other scientists have pointed out as well, are that 1) most respiratory viral diseases share very similar symptoms and multiple strains (e.g., 40 common cold coronaviruses alone), and 2) at any given time most people will have traces of various viruses in their respiratory passages. So:
Where have all the flu cases gone?

Epidemiologist Knut Wittkowski thinks he can answer the riddle.

"Influenza has been renamed COVID in large part," said the former head of biostatistics, epidemiology and research design at Rockefeller University.

"There may be quite a number of influenza cases included in the 'presumed COVID' category of people who have COVID symptoms (which Influenza symptoms can be mistaken for), but are not tested for SARS RNA," Wittkowski told Just the News on Thursday.

Those patients, he argued, "also may have some SARS RNA sitting in their nose while being infected with Influenza, in which case the influenza would be 'confirmed' to be COVID."

...

Numerous experts have pointed to the ongoing COVID-19 mitigation measures — including mask-wearing, physical separation, and other anti-virus tactics — as an explanation for decreased flu levels.

...

Wittkowski — who has been among the relatively few academics to consistently criticize widespread COVID mitigation measures — counters that there was "no evidence to support" the contention that masks would stop influenza while failing to stop COVID.

"I think that these viruses are more similar than people want to acknowledge," he continued. "People know everybody is wearing masks and distancing, and so people want to come up with things that are good about it."

...

A 2019 World Health Organization study, meanwhile, found "no evidence that [wearing a mask] is effective in reducing transmission" of influenza, potentially suggesting that masks may not be playing much role in the currently reduced influenza levels being seen throughout the world.

Wittkowski, who has numerous times over the course of the pandemic called for an end to lockdowns, social distancing measures, and mask mandates, dismissed the idea that those policies could ultimately have much effect on the spread of COVID-19. He has argued that herd immunity, either through natural infections or through a vaccine, is the only way to blunt transmission of the virus. "Pandemics end in the same way," he said, "whether we do something or not."
So, again the question from yesterday--why are our rulers so desperate to get us all shot up so quickly, with an untested vax? Is it because they need to beat the collapse of the casedemic?