My wife sent me an article from Fox about something that happened yesterday in deepest Blue Illinois. What happened was a pretty much impromptu demonstration, sparked by an anti-Trump sign that the Village of Northbrook has allowed a liberal activist to display in a public park. Here's the sign, which obviously parrots the line of Illinois' ueber liberal and ueber wealthy governor Pritzker, that attempts to pin blame for Covid deaths on President Trump alone: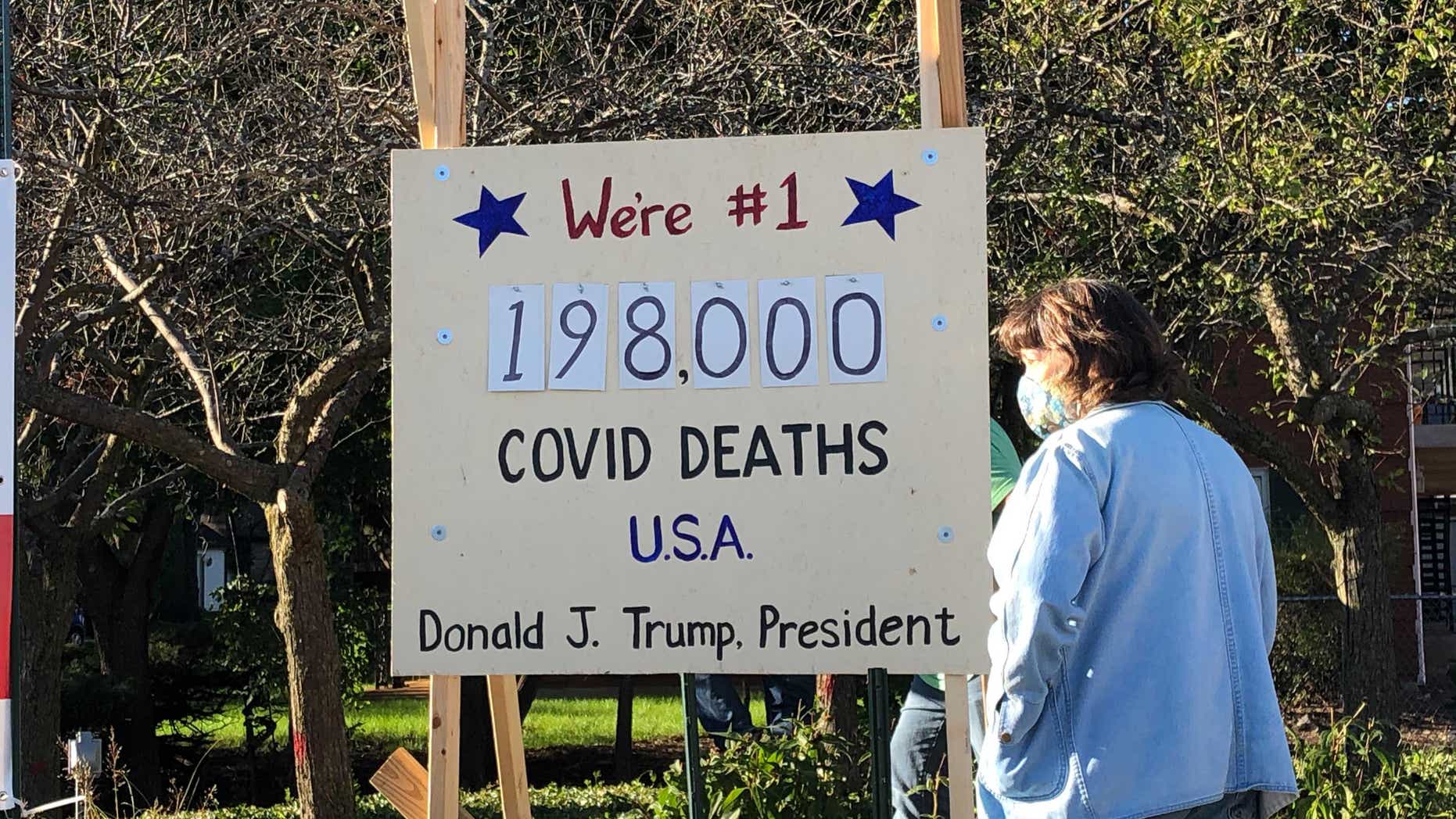 Northbrook is a North Shore suburb of Chicago and trends very definitely liberal on the political spectrum--if you view this at the original site the dot located Northbrook on the spectrum is at the left edge of the second palest blue bar:
The sign has become a flashpoint in what I'm pretty sure is a normally very placid community, and Friday a local high school student sponsored a rally against the sign that attracted far more support than anticipated. Note among the issues mentioned, beyond Covid, is: reopening government operated schools. In deepest Blue Cook County I've seen polls showing support for reopening government run schools at 75-85%, varying by school district. Some are now reopening, perhaps spurred by the success of the still fairly large Catholic school (and other private schools) in reopening on schedule. Of course, the extreme left Chicago teachers union has made sure that Chicago schools, serving heavily Black and Hispanic populations, remain closed.
Pro-Trump crowd in Illinois opposes Trump-bashing 'Coronavirus Death Scoreboard'
A fiery pro-Trump crowd gathered in a northern Chicago suburb Friday after an anti-Trump display critical of the president's handling of the coronavirus was placed at a busy intersection in the downtown area.

"We were only anticipating 15 people coming," organizer Peter C., a Northbrook, Ill., high school student, told Fox News. "We got a lot more than 15."
Anti-Trump demonstrators showed up, but in far fewer numbers. They demonstrated their usual class by spewing obscenities--in a community where public obscenity is still shocking.
At least 50 pro-Trump protesters proudly waved flags and signs supporting the president in a town that's widely perceived as being quite liberal.

A much smaller group of anti-Trump counter-protesters gathered across the street. Many of the cars passing through honked in support of President Trump, some even waved their own Trump banners from their vehicles.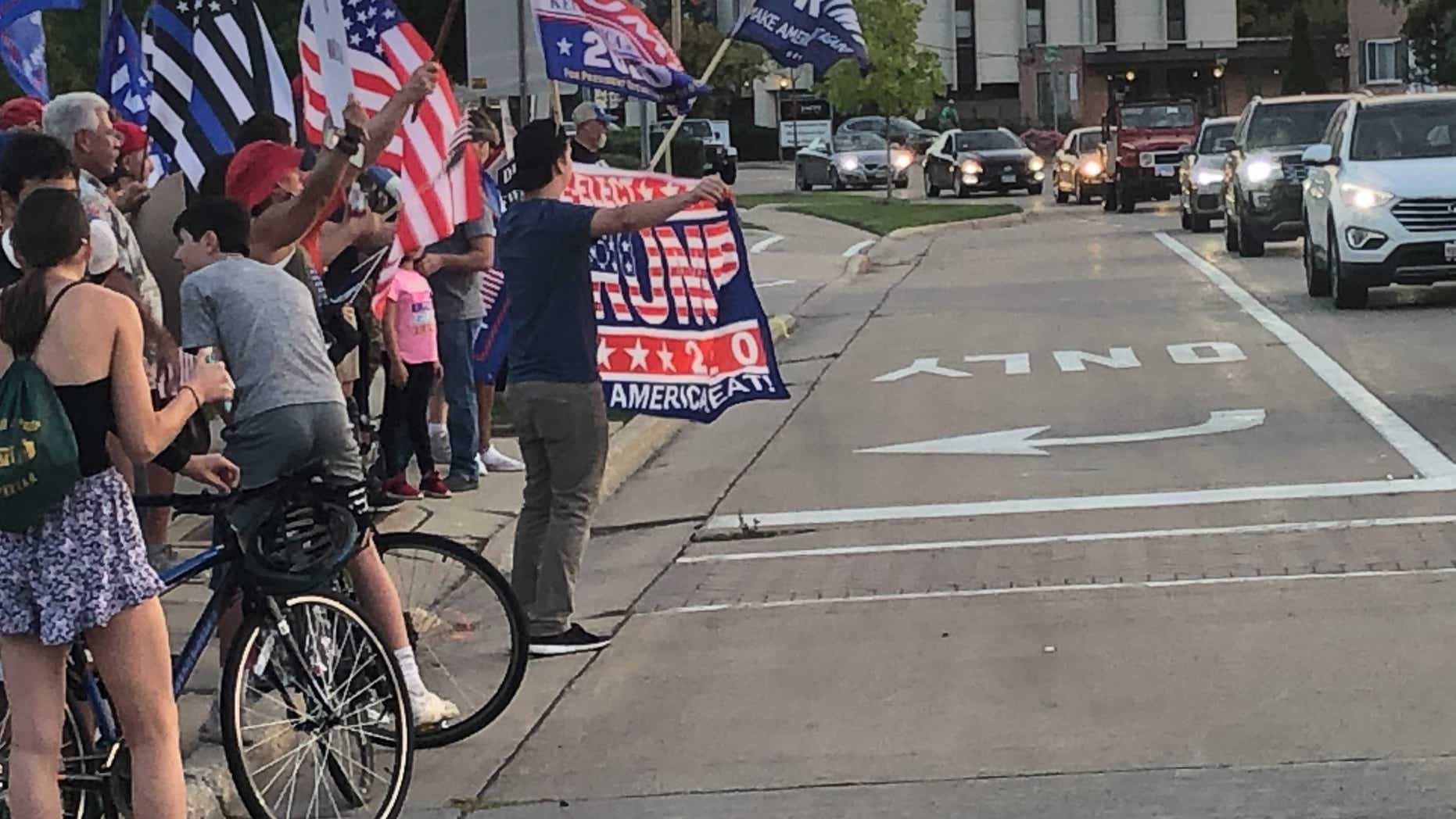 A few people booed the pro-Trump crowd. One young woman yelled, "F--- you!" and raised her middle finger as she blasted the 2016 song "FDT (F--- Donald Trump)" by rappers YG & Nipsey Hussle from her car stereo.
But here may be a real key--the liberal drive to close schools, shut down normal life, and silence criticism:
"We're here to protest for the reopening of our schools, our education system, and the funding of our police," Peter, a junior and moderator of his high school's conservative page on Instagram, told Fox News.
...
Two Northbrook residents, Richard and Florence, showed up at the demonstration in protest of the anti-Trump display, calling it "defamatory" toward the president.

...

"I think the liberals over there have a few people that have no answers," Richard pointed across the street. "They've been sitting here now for the last hour swearing at us, giving us the finger, calling the president a racist. ...

"They have a blind hatred for the president -- and no answers to why."

Florence said she believes there's a lot of "closet Trumpers that are finally coming out of the closet" because they're "tired of a spin that's not true." Richard similarly told Fox News that some people were "afraid" to put Trump signs outside their house because they feared "vandalism and retribution."
Obviously this is anecdotal, and the demonstration was relatively small. Still, if this is happening in Blue America, could it mean that something is afoot? Are normal Americans getting 'woke' to the true Prog agenda--and finding that it's a threat to the American way of life that they've taken for granted?