Techno Fog has posted a copy of the FD-302 for the FBI's interview of Joseph Mifsud. That interview took place in the lobby of the Shoreham Hotel in Washington, DC, on February 17, 2017. At that time Mifsud had come to DC for some sort of conference.
What will immediately strike the reader will be the perfunctory nature of the interview, if the 302 accurately reflects the interview (which could be a big IF). As presented, outside of background information regarding Mifsud himself how he knew George Papadopoulos, it appears that the interviewing agents--in one way or another, the exact line of questioning isn't made clear--raised the issue of whether Mifsud had discussed Russian possession of DNC emails. Mifsud responded that he himself had no such knowledge and that the topic had not been raised between Mifsud and Papadopoulos. This meeting took place in the UK in approximately September of 2016.
Here are the two views of the 302 that we have. Note that the administrative section is cut off, so we don't see the names of the interviewing agents or the case type (which would indicate what case the interview was conducted under and what type of violation was purportedly invovled)--which I assume would have been redacted in any case: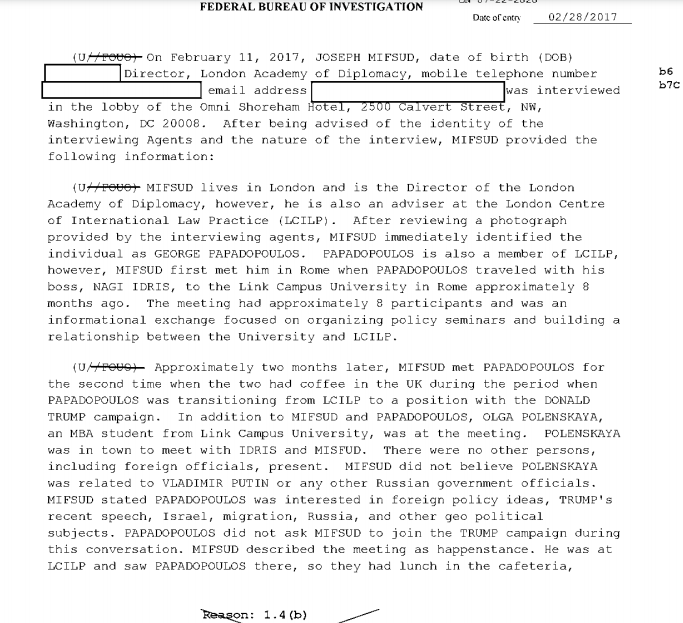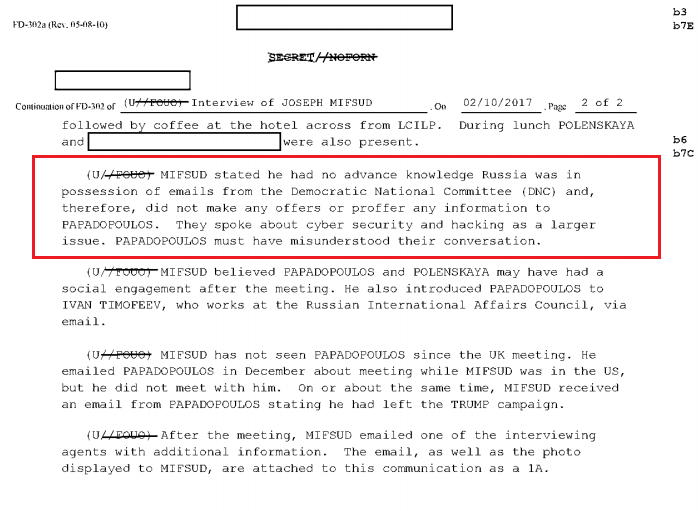 My guess is that the 302 is intentionally sketchy and that the interview itself may have also been intentionally sketchy. What I mean is, that the FBI officials running this investigation may not have wished to have an extremely detailed 302 on record, one which would give a sharp eyed reader a better idea of what questions were asked, how those questions were framed, whether the agents had attempted to pressure Mifsud or coax Mifsud into more complete answers, and so forth. In other words, the reason for the sketchy nature of this 302 may have been to avoid tying the agents down to any very specific recollections of the interview that could conflict with later investigative and prosecutive needs. At the same time, the fact of the 302 recording an interview of Mifsud would serve to provide a documentary anchor for the necessary narrative that the FBI had diligently investigated all leads in the Russia Hoax investigation.
In any event, the interview appears to have been generally amicable, because Mifsud followed up with an email to the agents in which Mifsud essentially reiterated what the 302 records, but at greater length than the 302. MIfsud simply repeats that "Cybersecurity" issues had never been a topic of direct discussion between himself and Papadopoulos and had been tangential to the main topics of conversation. Mifsud suggests that "cybersecurity" may have been discussed in the context of suggestions for topics for future think tank style "conferences/seminars". This was, presumably, Mifsud's discrete way of reaffirming what the 302 states: That Mifsud and Papadopoulos never discussed the supposed "Russia hacked the DNC" narrative that has been a staple of Dem "Trump collusion" conspiracy theory.
Here is that email: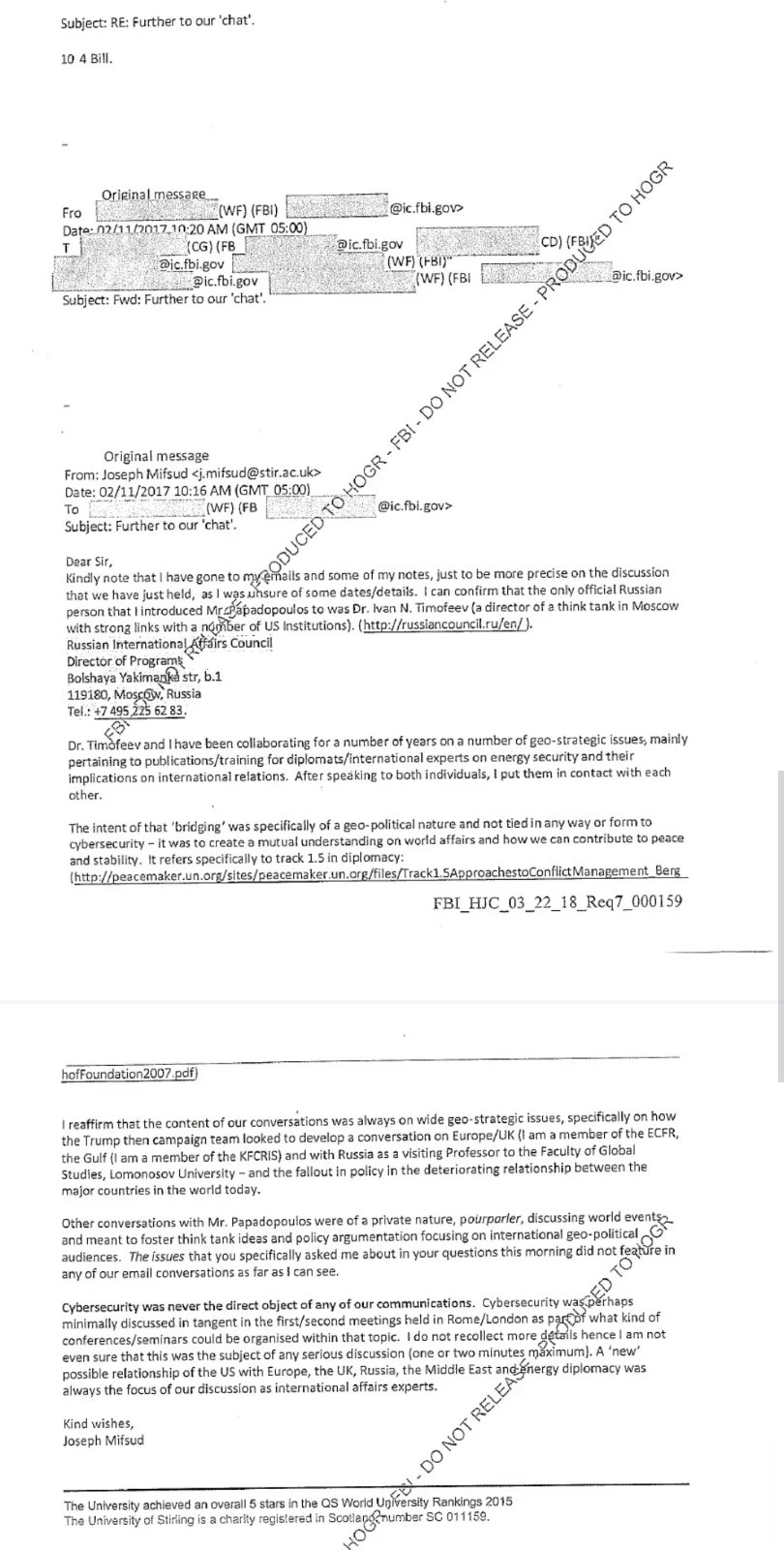 What is apparent is that the interview and accompanying email provide ZERO corroboration for the notion that Papadopoulos claimed to have heard
anything
at all about a supposed "Russian hack."
Further, if the FBI had hoped to develop a narrative that Papadopoulos had sought to introduce a Russian agent (i.e., Mifsud) into the Trump campaign (more below), that narrative was undercut by a statement made by Mifsud that was
certainly
a response to a FBI question:
Papadopoulos did not ask Mifsud to join the Trump campaign during this conversation.
In his twitter thread on this topic, Techno Fog points out another notable aspect of the 302--one which is only apparent if a comparison is made to the Mueller Report.
It appears from the 302--but only obliquely--that Mifsud was asked whether he had ever introduced Papadopoulos to Russians. Mifsud's email response places that topic at the very beginning and devotes more space to it than to the "cybersecurity" topic. Mifsud named the one Russian official with whom he connected Papadopoulos to--by email--a Dr. Ivan N. Timofeev, and provided fairly full details about Timofeev.
By contrast,
the Mueller Report places considerable emphasis on Mifsud's supposed Russian connections
. The Mueller Report also claims that Papadopoulos' statements that his contacts with Mifsud had taken place before Papadopoulos had joined the Trump campaign impeded the FBI investigation. The problem with this claim in the Mueller Report is that Papadopoulos was interviewed in January of 2017, and Mifsud was interviewed a month later, in February. In the 302 the FBI agents state that Mifsud told them that the UK meeting with Papadopoulos took place:

"during the period during when Papadopoulos was transitioning from LCILP to a position with the Donald Trump campaign."
In other words:
*The FBI appears not to have been impeded from making inquiries about Papadopoulos' status with the Trump campaign--they discussed that specifically with Mifsud a month AFTER discussing it with Papadopoulos.
*Mifsud's understanding of Papadopoulos' status with the Trump campaign appears to basically agree with Papadopoulos' understanding--the meeting in the UK had taken place "before" or during a "transitional" period with regard to the Trump campaign. That strongly suggests that Papadopoulos was being truthful with the FBI--that there was no intent to deceive.
Based on that evidence, would you consider it ethical for a prosecutor to coerce Papadopoulos into a guilty plea, claiming that you could--if necessary--adduce evidence to prove guilt beyond a reasonable doubt? I would say that any jury--had there been one--could
quite
reasonably entertain doubt as to Papadopoulos' intent, based on this evidence.
But Team Mueller insisted: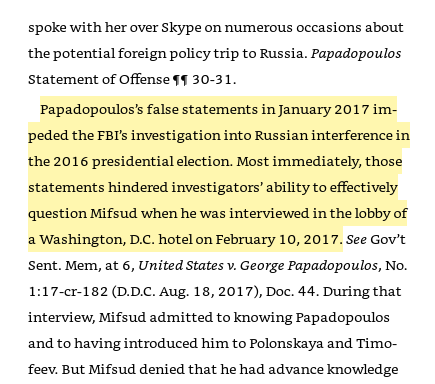 All in all, the release of this 302 appears to devastate any good faith presumptions in favor of Team Mueller--certainly with regard to the prosecution of George Papadopoulos. The timing of the release will certainly lead to speculation about imminent indictments, but that speculation will likely be directed toward Team Mueller. No wonder Andrew Weissmann has been freaking out.
Although there seems to be some conflict in accounts, there have been reports that Kevin Clinesmith may have been involved in the questioning of Papadopoulos. What has Papadopoulos had to say to Durham on this topic? We presume the agents involved in all interviews with both Papadopoulos and Mifsud have been interviewed--and their accounts likely compared to the tape recordings of Mifsud that Mifsud's lawyers gave to Durham. What have they said? And is it possible that Durham has actually been in direct contact with Mifsud? We don't know, and of course Durham isn't saying.